Que Pasa

Jack Cole, pioneer boat builder of Skipjack boats, passed away on February 23, 2018. We join the entire Skipjack family, including Irene and his two sons, Jack, Jr. and Jeff Cole, in honoring this legend and his contribution to boating during his lifetime.
https://www.bdoutdoors.com/skipjack-boat-builder-jack-cole-passes/
Tijuana Bull Ring
Kelp beds had slow action for the few boats that tried them. Better luck bottom fishing farther offshore in the flats for sand bass and other miscellaneous fish, whitefish, sculpin, sheepshead and a few legal-sized halibut…fishdope.com
Lower 9 Mile Bank

Very good action for reds, bocaccio and other red rock-fish has continued to happen and there were a few ling-cod if you were lucky.
Dropper-looped sardines are scoring some very nice reds in 330- to 375-feet of water.
Coronado Islands
There are some yellowtail around but finding them and getting them to bite is proving difficult. Recently the Liberty was only able to boat one yellow after spending close to half of the day looking for them. The bite came on a yoyo iron down in the general area of the Rockpile. The water was 57 degrees and green…fishdope.com
Ensenada
Another week of few anglers and cranky weather…Sammy Susarrey
Colonet
No yellowtail were caught this week. Rockfish action has been good though with plenty of big-quality reds.
San Quintin

Spring in Baja means surface yellowtail and coastal white seabass; it also means wind, so keep an eye on wind models…Captain Kelly Catian
Northern Sea of Cortez
Fished with "Rockodile" John, George da Jeepzy and Anthony Hayward; the weather report was calling for wind and by 1.30pm it was on. It was a slow day — a couple of leopard grouper and one yellowtail. However, with plenty of corvina around, if you found the school, it was a fish every drop. There were schools of breezing yellowtail but they had lock jaw, as if waiting out the wind — fish-on…Papa Fernández Landing and Resort, located on the Sea of Cortez near Punta Willard, San Luis Gonzaga, BCS…Juan Cook
Laguna Ojo de Liebre

It was a "Pink Floyd" kind of day; we were fortunate to witness a wild gray whale mating scene…Shari Bondy
Bahía Asunción
No report.
Loreto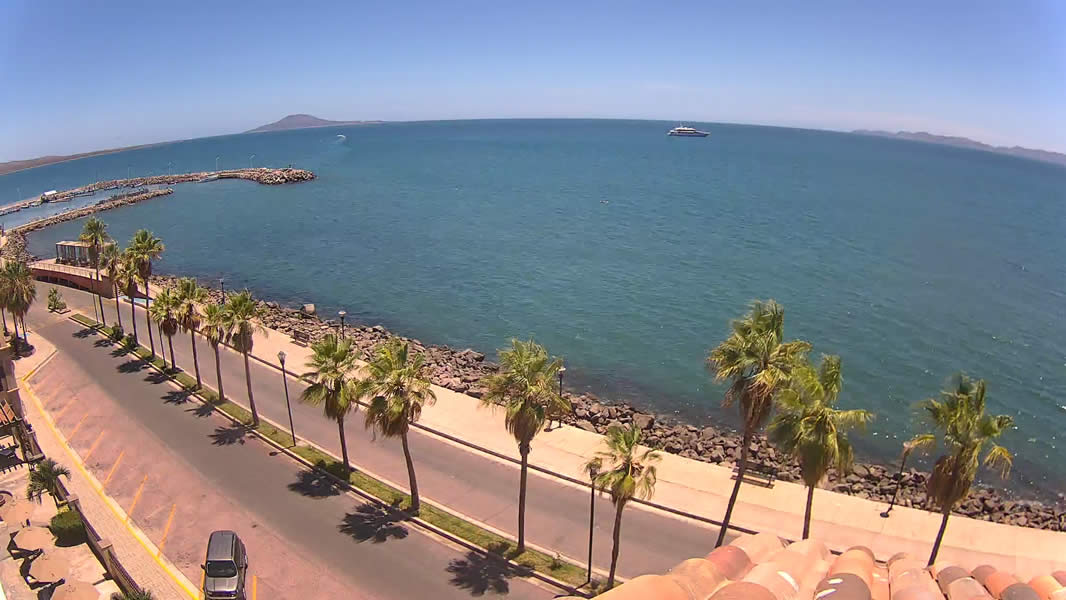 The ocean scene has been pretty much unchanged for several weeks now.
There has been good bottom fishing out at the 50 Spot for white fish, reds and pintos. Some big pintos have been caught on the live mackerel with cut bait doing the number on the smaller versions.
The only yellowtail action remains out at Catalana for the boats with full gas tanks (it's a long haul from the Escondido Harbor and still another hour from the Loreto Marina)!
The big whales are still in the area, but the water will be changing soon sparking both their exit and the start of more serious fishing action.
North of town there has been a lot of searching and not too much catching. I don't know if anybody has been getting as far north as Pulpito yet. When the radio is quiet you know the fishing is slow!

 "Johnny, Lonnie and Mark"… not in that order but it sounds better with a sample of the action found out at 50 Spot. They first worked over the La Cholla area and got rocked by some big pargo before the bite turned off. The north side of the little rock pile with the "lighthouse" also holds some nice cabrilla that hide among the rocks.
Luck is a must in this zone…Rick Hill, Pinchy Sportfishing

Fish on fish on fish. Today's clients were all smiles especially with the season's first billfish! …Jay Yadon Outpost Charters
La Paz

MEXICAN MINUTE LA PAZ FISHING REPORT from TAILHUNTER SPORTFISHING for Week of March 11-18, 2019
East Cape

El Regalo started 2018 with a bang. On the first day of the season, it landed 16 yellowfin tuna, all good size (from 15- to 20-pounds) with one larger model (45-pounds) mixed in.
The tuna was found some 15 miles outside on a school of white-belly porpoise. The school of porpoise was huge stretching for miles in each direction. Despite the lack of early morning action, patience paid off as Captain Arturo continued to search the school for the tuna. Rapala Xrap 30 Magnums did the job along with hand-tied flies that imitated the small baitfish. The larger fish were caught by chumming squid chunks after hooking up. This is a great way to either get a larger model tuna or to land more at each pass.
Tuna were also caught on the banks to the South this week using squid and sardina.
https://www.bdoutdoors.com/forums/threads/scorpion-sportfishing-feat-el-regalo-east-cape-sportfishing-report-march-18-2018.680216/
Puerto Los Cabos
Anglers found a wide variety of fish available but catching has been tough; the yellowfin
tuna action was very limited. Anglers were seeing ample tuna come up to free-chummed sardina on the La Fortuna Bank, though lots of bait was needed to get these fish into a big enough frenzy that they would bite a baited hook. Going down to as light as a 30-pound leader was necessary. The yellowfin that were landed weighed in the 20- to 45-pound range. Supplies of sardina were more limited, as the schools dispersed from the Palmilla area and are now being found schooling north near San Luis. There was more boat pressure and not as much bait available which made the bite tougher.
The early part of the week started off with good numbers of dorado, though only a small percentage of these fish were over ten pounds. The action slowed down later in the week, as did the tuna action. Over last week and through the first part of this week, we saw a wahoo bite develop, with most of the fish being found in close off Punta Gorda. Of course, there are no secrets these days, and word on this unseasonable action spread like wild fire.
Even 100-foot yachts were trying to get in on the action.
The problem is that this one area is very vulnerable and fragile with the excess boat activity. The spear fishermen arrived in numbers as well. We heard of several afternoon trips going out with spear fishermen who were killing eight or more wahoo per each outing, a bit of an over kill. It's too bad the local authorities are not making any effort to deter this exploitation. There is just no room for the increased number of rod and reel charters, in addition to so many boats that now have spear fishermen.
This week there was increased striped marlin activity encountered off the Gordo Banks region and towards Desteladera. In addition, some balls of mackerel and chihuil baitfish were being found on these same grounds, along with boats trolling with ballyhoo and artificial lures, there has been decent action for marlin with average fish seen being in the 90- to 120-pound class. The tuna action has been much slower now, though we expect more anglers might be targeting these billfish.
The bottom action has continued to be sporadic — some days decent numbers of mostly smaller snapper, pargo, leopard grouper, along with an occasional amberjack … but with strong currents running, most days this opportunity proved not to be an easy task and there was very limited productivity…Eric Brictson, Gordo Banks Pangas
Cabo San Lucas
Numbers at a glance: Billfish 57%, Tuna 7%, Dorado 19%, and other species 39%.
With unbeatable weather conditions and many species to target in diverse areas, this week was a great one!
Billfish numbers were strong, and fishing has been more consistent; seeing upwards of three striped marlin per boat was not unusual.
There were also very nice smaller game fish of very decent size, such as red snapper, grouper, yellowtail and wahoo, all upwards of 20 pounds…Rebecca Ehrenberg, Pisces Sportfishing
Cabo Climate: More great fishing weather with mostly sunny skies the average and daytime temps in the upper 70s with evenings in the mid-60s. More of the same is expected through the end of the month with no precipitation predicted over the next two weeks. Winds are relatively calm with gentle shore breezes in the upper single digits. Humidity expected in the mid-50s over the two-week forecast.
Sea Conditions: Relatively calm seas throughout the area with some surface chop occasionally stirred up by surface breezes at 8- to 10-mph mostly out of the South and SSW. Forecast is for more of the same with winds from 9- to 12-mph shifting from South and SSW to West and SW. Sea temps around the Golden Gate and Jamie Banks are steadily cooling into the lower 70s. Water around Cabo Falso east to the Gorda Banks is warmer in the 72- to 74-degree range but the overall water temp is continuing to drop a bit.
Best Fishing Areas: The San Jamie Bank has been productive for marlin for those who made the run. El Faro was the other hot spot, with some success in the Pozo Cota area as well. Action along the Pacific side, along Migrino slowed considerably but it produced all three mako shark for the week.
Best Bait & Lures: Trolled lures and rigged and live bait tossed to surface fish seemed to be the ticket for the marlin.
Bait Supply: Plenty of bait available at the $3.00 per bait upon exit from the harbor…Cortez Yacht Charters