Que Pasa


Two unique sportfishing tournaments were held on March 11, 2018. The first was Stephen Jansen's (Jansen Inshore Tackle) 6th Annual Sierra Tournament held at Migrino Beach. This one-of-a-kind event features shore fishing and targeting a single species — sierra. It attracted 409 anglers literally from around the world who came to compete. A 6-pound sierra took First Prize.
The second event, Torneo de Pesca Deportiva Fiestas Tradicionales
San Jose 2018, is also an annual affair targeting wahoo, yellowfin tuna, and dorado. Thirty-nine teams of four anglers fished from boats that departed from both IGY and Puerto Los Cabo Marinas. The largest fish of this event was a 44.9-pound yellowfin tuna caught by Captain Carlos Beltran Colzessus aboard "Feeling Azul".
Tijuana Bull Ring
Same old story in this area … rockfish. Most all the spots are working with some nice reds mixed in among the other kinds of rockfish.
Outside the kelp beds there are many of the smaller, mixed rockfish on the hard bottom. All the spots are producing the rockfish which are coming up stuffed full of red crab.
The calico and sand bass seemed to be shut off by the weather…fishdope.com
Coronado Islands
Some yellowtail are being found south of the Islands, but they are very "hit-and-miss". Yesterday a party boat scored 36, while none of the boats around them got anything.
The general area remains a 2-mile block out in the flats where the water is dirty green and cold at 57 degrees. The yellows are down deep and the schools that do respond only want the yo-yo iron … the 6X size is working best, although a few are taking the surface iron if the fish respond to chum.
Near the Islands the water is cold and dirty with no yellowtail; however, there are some bonito and mackerel to be had. They are working on spots of mixed anchovy and red crab…fishdope.com
480 / 295 / 238
Recently a boat scored two 35-pound bluefin and 25 kelp-paddy yellowtail working a large area between all three banks. Many more bluefin were seen crashing on spots of bait then were caught.
There are also some 65-degree warm water pockets just below the 295…fishdope.com
Ensenada
Small yellowtail along with bonito tantalize on the surface as winter weather continues. Look for bird schools and try trolling Rapalas. Not every batch will produce but enough will produce to make it worthwhile.
Todos Santos and Salsipuedes both have some action to offer. At the Island, the kelp beds provide a steady pick on the good days. Of course, the mainstay remains "over the chart" bottom fishing for reds, assorted rockfish, lingcod and don't forget the sheepshead which seem to be abundant this year.
If the hard bottoms don't produce, try the sandy bottom flats for a keeper halibut or two.
Colonet
Weather on the high spot prevented the San Diego party boats from making much of a dent on the bottom fish. Local anglers report fair-to-good action on the few calm days they could get out.
Offshore, rumors abound as transiting sport fishers and long-range boats continue to report more sightings of the bluefin tuna than actual catches.
San Quintin
Still quiet as few anglers seem to be venturing down to SQ to fish … understandable since the weather continues to be up and down. Local anglers have been sneaking out on the good days and scoring similar catches to the Ensenada area. Not over the top exactly, but enough rockfish, whitefish, lings and other fish to fill the cooler.
Northern Sea of Cortez From San Felipe past Gonzaga to Bahia de Los Angeles
The entire area has been inundated with "spring breakers" and the camping spots from San Felipe all the way down to Bahia de Los Angeles are filled with mostly locals.
The weather on the Sea of Cortez has been much better than expected with recent seasonal north winds. The surface action has been "iffy" with only a few decent yellowtail bites to be had.
Those who elected to pursue the cabrilla, grouper, and pargo were rewarded with some nice-sized fish for the cooler.
Even those who stayed closer to shore, or in some cases, fished from the beach, were rewarded with many spotted bay bass on artificials.
Laguna Ojo de Liebre

The birthday girl, Maria, had the first whale touch today followed by a full-on whale party…Shari Bondy
Bahía Asunción
The weather has been a bit cool and the water temps have taken a dive which translates into green water and not real good yellowtail fishing. We have been picking up one here and there but haven't found any real concentration of fish. Yesterday was a warm flat calm day and the water had cleaned up and blued up significantly, so we found some fish — three nice yellows along with some assorted by-catch…Ross Zoerhof
Loreto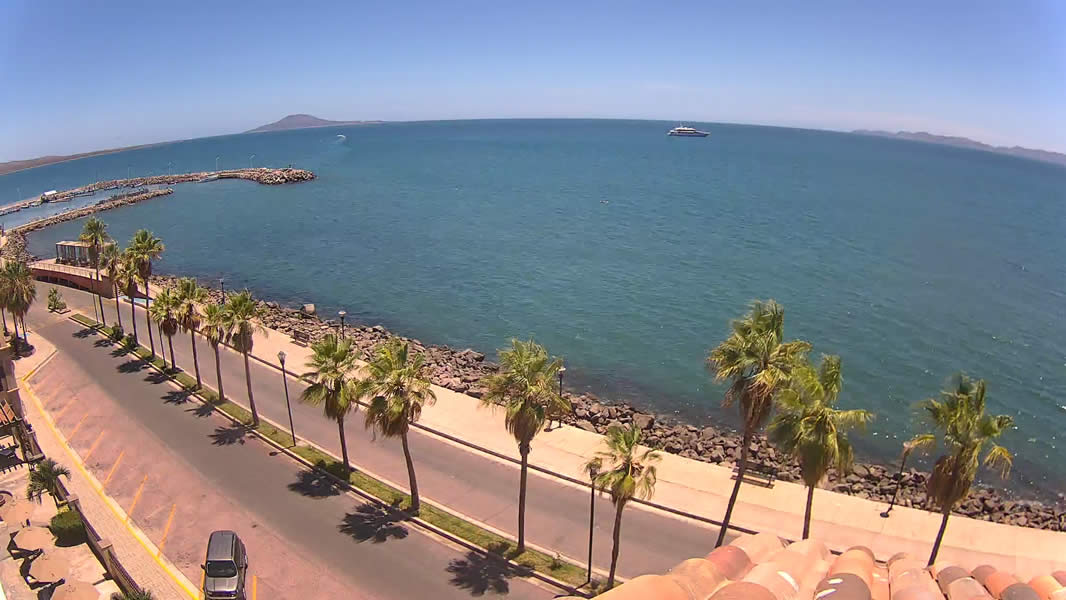 Looks like the yellowtail season is starting to take off!
The annual blue whale invasion is coming to an end with only a few big moms and babies being spotted this past week.
Yellowtail are moving back to the high spots and have been hitting live bait at feeding time.
Trying to figure out when "feeding time" is has been the problem. The commercial hand-line fishermen have been coming in with good catches, but these are the guys that sit out there for 18 hours.

Off the south tip of Catalana Island we landed yellowtail to twenty-five pounds on big green mackerel. We caught one 24-pound 'tail on an all- white lead head with no added plastic or squid!
Down south the yellows have been chewing both bait and iron. The few boats with down riggers have been getting more hits and more fish on ice.
The coastline of Catalana Island has been good for cabrilla in the 5- to 8-pound range. Medium-sized jointed plugs in silver and blue worked best for us.
At Carmen Island's "50 Spot", the best catches are still the huachinango with only a handful of yellows coming to the ice box.
No reports from north of Coronado or farther up to Pulpito.
In a few weeks it will be Easter and the air temperatures are on the rise. Today we hit 85 degrees, but the water temps are still cold in the low to mid 60s.
The big yellows will be bending poles and busting lines soon…Rick Hill, Pinchy Sportfishing
La Paz

MEXICAN MINUTE LA PAZ FISHING REPORT from TAILHUNTER SPORTFISHING for WEEK of MARCH 4-11, 2018
East Cape
As the Cabo season has wound down, El Regalo is back on the East Cape and the Scorpion Sportfishing team is hard at work preparing El Regalo and Scorpion for the start of the 2018 East Cape season. Early springtime on the East Cape brings with it some windy days and some calm days. On those calm days, we have been able to get out and we had good success.
After an epic striped marlin season out of Cabo San Lucas (see video from the day we released 21 striped marlin),
The striped marlin have been the most consistent catch throughout the winter and into early spring on the East Cape. On the calm days, we have found good action for stripers mostly trolling live mackerel over the La Ribera Bank. Jigs and dead bait have also had some success as well. On Friday of this week, we had a school of 5 striped marlin crash our baits. After a couple of strikes from each fish, we were able to release two stripers with a third one throwing the hooks. With good bait in the area, we would expect this bite will continue to provide action for visiting anglers.
There have been schools of dorado on the East Cape throughout the winter and early spring which have been a ton of fun. Most have been release-sized (we encourage release of smaller dorado for conservation purposes) but there have also been some taco keeper-sized mixed in. Action has come on a combination of live bait, ballyhoo and small lures.
As dorado can grow rapidly, we are hoping that the release of these smaller fish will pay dividends in the future.
There have been reports of good tuna bite on the banks to the south as well as on the south point of the island. A couple of tuna have also been caught at the lighthouse at Punta Arena trolling live bait. We haven't really targeted the tuna with the strong marlin and dorado bite close to home.
Sierra are being caught early in the morning close to shore. These fish have been caught trolling and casting small lures. The snapper bite that had been strong throughout the winter has slowed down a bit, but we would expect with more flat days they will turn on again.
https://www.bdoutdoors.com/forums/threads/scorpion-sportfishing-feat-el-regalo-east-cape-sportfishing-report-march-11-2018.679725/
Puerto Los Cabos
As the spring season approaches, expect to see varying weather patterns. There will continue to be intermittent cooler days followed by seas settling down and the North Wind lessening; daytime temperatures should warm into the upper-70s. Not as many whales have been sighted and this could mean that these mammals are beginning their northern migration as the seasonal changes approach. Ocean temperatures have ranged from 70- to 73-degrees; greener currents are working south from Los Frailes near the Gordo Banks.
The main bait source continues to be sardina, with main concentrations schooling near Cabo Real as well as on the beaches north of San Luis. Supplies have been sufficient, though patience has been necessary as these baitfish are netted each morning. Offshore, near the Gordo Banks, there were reports of balls of baitfish being encountered — mackerel and chihuil. Some of these were caught on sabiki rigs.
The yellowfin tuna action came to a standstill as there was wind to deal with near the Iman Bank and La Fortuna where the yellowfin were being found, but a handful of tuna in the 20- to 50-pound range were still being caught. Now the tuna have developed lock jaw; they were seen feeding on free-swimming chummed baitfish, but were extremely finicky in striking any offerings, even when going down to a 20-pound leader.
The entire fleet caught only a few fish per day.
The dorado bite has rebounded strongly. Most action was found near La Fortuna while slow-trolling or drift-fishing with sardina. Sizes were mixed, with the largest dorado near 15-pounds. Many small juveniles were hooked into as well. Remember to practice catch and release on these fish — let them mature and spawn to retain healthy stocks for the future. Despite the cooling waters there were several reports of wahoo swimming in small schools on the same dorado and tuna grounds, though they proved elusive and would not strike.
Bottom action has improved, as more anglers were trying this option once the tuna bite slowed. One yellowtail, over 30-pounds, was landed off the same tuna grounds while drift fishing with a live sardina. Decent numbers of leopard grouper, yellow snapper, a few amberjack and of course triggerfish were in the area as well.
Everyone is optimistic about more consistent action soon coming from off the bottom rock piles. No signs of red crab activity yet, but that could happen any time and this could open up the red snapper action.
Only limited numbers of sierra were found close to shore along with a few small roosterfish. A few pompano, surgeonfish, and bonito rounded out the shallow-reef species…Eric Brictson, Gordo Banks Pangas
Cabo San Lucas

Numbers at a glance: Billfish 62%, Tuna 4%, Dorado 11%, other species 24%.
Marlin numbers continue to impress this week, with over 60% of boats catching them; two sailfish were caught and released. Some boats continue to catch up to 3 or 4 marlin a day, along with some dorado and other small game fish. A few nice yellowtail are included in the small game catches this week, giving us great foreshadowing of the season to come. This week the fishing grounds changed from the last few months, where fishing had been found consistently on the Pacific at Golden Gate. Now fish such as marlin and dorado are being found mostly south close to the 1150 or east past Punta Gorda.
Some fishing still out on the Pacific by Los Arcos and Migrino and of course, small game closer to shore in diverse areas…Pisces Sportfishing Fleet by Rebecca Ehrenberg
Cabo Climate: More great fishing weather. Mostly sunny skies with the average daytime temps in the upper-70s and evening temps in the mid-60s. More of the same is expected throughout the remainder of March with no precipitation predicted over the next two weeks. Winds are relatively calm with gentle shore breezes in the upper single digits. Humidity in the mid-60s is forecast for the rest of the month of March as well.
Sea Conditions: There has been relatively calm seas throughout the area with some surface chop occasionally stirred up by surface breezes at 8- to 10-mph mostly out of the South and SSW. The forecast is for more of the same with winds in the 8- to 10-mph range. Sea temps around the Golden Gate and Jamie Banks are steadily cooling into the lower 70-degree range. Water around Cabo Falso east to the Gorda Banks is warmer in the 72- to 74-degree range but the overall water temp is continuing to drop.
Best Fishing Areas: The San Jamie has been producing marlin, but by week's end the best results were coming from the 95 and 1150 Spots, with some success in the Pozo Cota area. Action along Migrino on the Pacific side slowed considerably with the catch shifting to roosters, sierra and bonito.
Best Bait & Lures: Trolled lures as well as rigged and live bait tossed to surface fish seemed to be the tickets for the marlin. Some boats even mixed in some smaller smoke trail and feathers to coax the dorado.
Bait Supply: Plenty of bait available at $3.00 per bait upon exit from the Harbor…Cortez Yacht Charters