Que Pasa
2018 Fred Hall Digital Show Guide On Line Now Show starts Wednesday in Long Beach…see you there!
https://www.bdoutdoors.com/2018-fred-hall-digital-show-guide/
Coronado Islands
Sportfishing conditions were a little on the tough side, with wind and lumps making it tough to find and stay on spots of yellowtail. The main zone from below the South Kelp Ridge to all around the Rockpile in 25- to 35-fathoms of water is still holding some 6- to 15-pound yellows. Yo-yo iron is by far the best producer since the fish are mainly in the lower half of water column, but you can also troll Rapalas to cover ground at a good speed for metering around for marks. There have also been occasional flurries of surface activity with a little better-grade of yellowtail but they are not biting well at all.…fishdope.com
Tijuana Bull Ring
Recent strong currents have resulted in slow to fair bass action as well as halibut as the storms parade down the west coast…fishdope.com
Ensenada, San Quintin and Sea of Cortez Northern Sector
All seemed to be victims of the recent stormy weather and lack of anglers eager to fish. While we sit the weather out. Here's a great feature with tips on how to rig swim baits by fellow BD Contributor Erik Landesfeind
https://www.bdoutdoors.com/rigging-tips-for-swimbaits/
Gonzaga Bay to Highway One and back again
February 19, 2018 Came across from Gonzaga Bay to Highway One – made it in about 2
1/2 hours in a 22-foot motorhome with no toad (towed vehicle). Drove the "new" road part of the way (others have too, but you must squeeze through orange barriers). Nice young man driving a "grater" cleared a steep access for us, otherwise, I think we would have had to backtrack a fair bit. Somehow missed Coco's place – thought we were thoroughly lost at one point and happy to wind down a muddy dirt single-lane track to see a hand painted La Paz sign! Met three big rigs heading east as we were just about out of it. Will stay on official detour on our return trip.
March 2, 2018 Came north on the cut-off from Laguna Chapala to Gonzaga Bay yesterday. I was driving and my husband didn't take any pics of the hairy spots, probably because he was holding on and praying! Tried to stay on the detour road – which was
easy until past Coco's a ways and then no markings and we ended up on the "new road". Part was great – part was nearly impassable in our 22-foot motor home.
Towing anything would not have worked! Very narrow passage between huge rock walls and big rocks, extremely deep, uneven with rocky ruts; went about two miles an hour and still scraped a couple of times.
Four-wheel-drive trucks would be okay – but I do not recommend for anything else (and please, no tows). Once in, the road cut left no way to turn around. Hope they get the orange markers up!
Beware my Baja bound friends! Whew – we were so happy to get through without any damage…Marie Bjork-Haugen
Camping at Gonzaga?
Papa Fernandez was great camping for us. There are several "palapa" style spots to camp at there. Quiet and private and secure.
https://www.bdoutdoors.com/forums/threads/camping-at-gonzaga.679018/
Laguna Ojo de Liebre

One last whale photo for 2018…Shari Bondy
Bahia Danzante
We arrived at our first camping spot on Sunday afternoon. It was a beautiful spot on Bahia Danzante. Thanks Richard Martin for tipping me off to this place. It was very convenient to the highway and close to a market but yet felt quite remote. Off shore, the area featured a large island, Isla Danzante, and several smaller islets, and rock piles. Monday turned out to a pretty nice day, weather wise. The wind calmed down overnight but the temperature was still quite cool. We launched at sunrise and caught a nice variety of cabrilla, triggerfish and several other of the Cortez usual suspects. I brought mostly my light tackle and felt a bit under gunned.
I was freight trained by three large fish and lost a lot of tackle, including two new Rapala slash baits on two consecutive casts around a boiler rock. Cha Ching!
We had a nice fire on Monday evening and by bed time the wind had dropped to zero and we looked forward to a glassy morning on the water. The campfire photo is the last known photo of Troy Zed camo pants, as the wind came up hard during the night and blew them away — never to be found. It was a crazy wind that would blow 25-mph for a couple of minutes and then drop to zero in a couple of seconds, only to resume at gale force a few minutes later.
The sunrise was beautiful, but ominous. Shortly after the photo, it began to rain so we packed up and headed back to Asuncion where it is also cold and windy, but we have a hot shower…Ross Zoerhoff
Loreto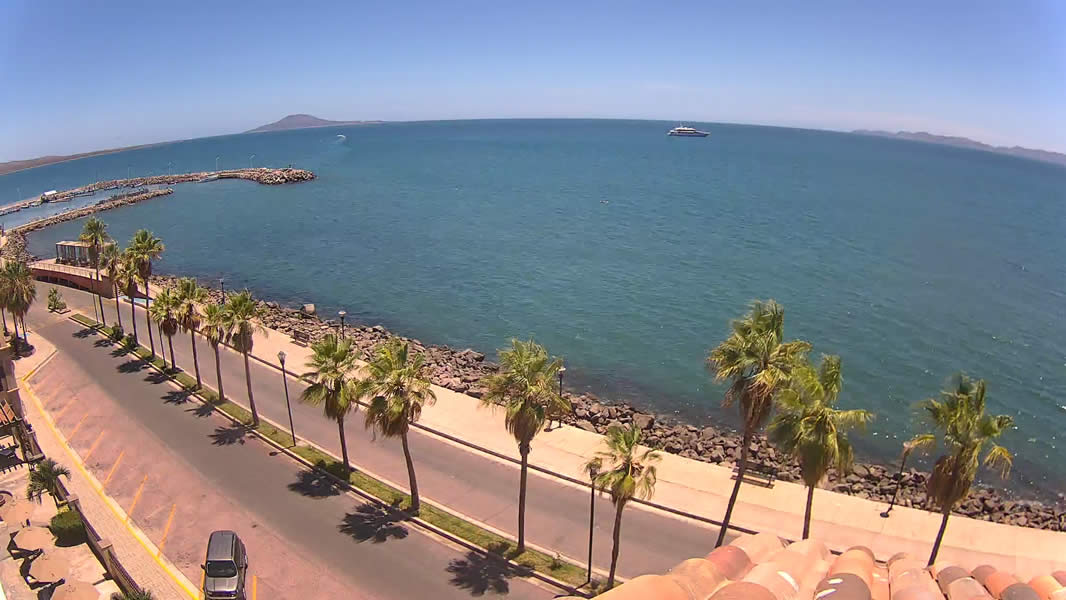 This week we had wind and some heavy sprinkles (I would hesitate to say, "rain") with the weekend full of spring sunshine!
The few boats that were out fishing did manage to find yellowtail action that they termed — "wide open"!
South Reef at Isla Catalana was the spot were some of the Escondido boats found the yellowtail boiling and biting!
Most fish caught were averaging close to 20 pounds and fell for live mackerel. The iron was productive for both yellows and bottom hugging pargo.
Live bait has not been a problem, although the huge yellowtail boils we have seen north of Coronado have been on large schools of sardina! The live mackerel and iron we have thrown at these traffic jams have come up zip-zero-nada!
A few more weeks and the whale and water situation will be ripe for big tails.
The Loreto boats have been occupied with a lot of whale watching tourists from many corners of the globe.
A few more weeks and that will shrink and the focus will be back to finding bigger fish than the pintos and reds!…Rick Hill, Pinchy Sportfishing
La Paz

Mexican Minute La Paz Fishing Report from Tailhunter Sportfishing for Week of Feb. 24-Mar. 4, 2018
East Cape
Planning on a week of Surf Fishing around the light house area.
https://www.bdoutdoors.com/forums/threads/surf-fishing-cabo-pulmo-east-cape-punta-arena.679148/
While north winds have hampered fishing recently. As soon as the stop some of the Palmas fleet seem to find the yellowfin pretty quickly along with stripers.
Puerto Los Cabos
Ocean temperatures were ranging from 70 to 74-degrees, with the warmest area now being around the Jaime Banks off of Cabo San Lucas. Off of San Jose del Cabo and to Los Frailes the water averaged 70-degrees, and despite strong north winds earlier in the week the water still was fairly clean. We are now also in the full moon phase and this can often impact feeding habits of certain species of gamefish. The main baitfish now being used has been sardina; the bait netters had been finding these off of the stretches near San Luis, but higher swells made this tougher and once again the majority of the bait is being found along the rocky shore line from Palmilla to Cabo Real; they took longer than usual to obtain enough bait to supply the fleet sufficiently, but it was worth the wait, because these sardina are what the yellowfin tuna are hitting on.
The bite for the tuna has mainly been off Vinorama, some fish were also found on San Luis Bank and near Iman.
Last Sunday, Monday and Tuesday the action was good for fish averaging 20 to 50-pounds with one 93-pound yellowfin tuna weighed in. Fish were finicky and line shy at times. Anglers who were using 30- to 40-pound line had the best success — sporting tackle for tuna of this grade. The gusty weather shut the action completely down on Wednesday and Thursday before the bite rebounded on Friday. Charters averaged two to five tuna each. Considering this is now off season for yellowfin tuna, this action has been a welcome bonus.
Billfish action was limited to sporadic action on the Pacific. No striped marlin on the grounds off San Jose del Cabo at present. Dorado continued to be found daily, though in fewer numbers, and most of these fish are small juveniles in the five-pound range, with a rare ten-pounder mixed in. When the ocean temperature dips down near the 70-degree range species such as dorado generally head on a southern migration, following the wahoo, which have already moved out of the area.
With most charters waiting longer to obtain sardina and then heading far north towards Vinorama to target the tuna, there was not a whole lot of bottom action even being targeted. Though we did see a mix of yellow snapper, huachinango, leopard grouper, even a couple of broomtails, as well as a few bonito and triggerfish. No yellowtail or amberjack reported, nor did anyone report seeing pelagic red crabs, so the red snapper bite was very limited, just one or two fish here or there.
There were some sierra found along inshore beaches from Palmilla to Chileno, but not in the numbers we would expect considering that this is now their peak season. With the colder water we did not find any roosterfish or jack crevalle either. Still plenty of whales in the region and they should be around all this month…Eric Brictson, Gordo Banks Pangas
Cabo San Lucas
Numbers at a glance: Billfish 55%, Tuna 2%, Dorado 13%, other 40%.
With weather conditions this week being a bit more difficult, not many boats went out searching for tuna and anglers preferred to place their bets on marlin or they stayed closer to shore and fished for small game, which has been a lot of fun lately. This strategy paid off well, with the fishing being split evenly between marlin and small game, plus there were a few dorados scattered through.
The 61-foot Viking, Pisces Tag Team, was our number one boat this week for the most marlin caught in one day. A great team of five anglers celebrated Thomas Wetlauffer's birthday — numero 60 — by catching one marlin each! A total of five striped marlin caught out at Golden Gate on mackerel bait, weighing approximately 90- to 120-pounds each. All fish were released…Pisces Sportfishing Fleet by Rebecca Ehrenberg
Cabo Climate: More great sportfishing weather with mostly sunny to partly cloudy skies the average and daytime temps in the upper 70's with evenings in the mid-60's. More of the same expected through the middle of the month with no precipitation predicted over the next two weeks. Winds are relatively calm with gentle shore breezes in the mid- to upper-single digits. Humidity expected in the mid-60's and climbing toward the 70's by the middle of March.
Sea Conditions: Relatively calm seas throughout the area with some surface chop occasionally stirred up by surface breezes at 8- to 10-mph mostly out of the West mixed with the SW. Forecast is for more of the same with winds in the 8- to 10-mph range through the middle of the month. Sea temps around the Golden Gate and Jamie Banks steadily cooling into the lower 70-degree range. Water around Cabo Falso east to the Gorda Banks is warmer in the 73- to 74-degree range but the overall water temp is beginning to drop at bit.
Best Fishing Areas: Boats making the run to the Golden Gate continued to be rewarded with solid marlin action. Most of the boats fished a little closer in; it was raining marlin in the El Faro, Pozo Cota areas and out in the Herradura. Action along the Migrino slowed considerably with the catch shifting to roosterfish and bonito.
Best Bait & Lures: Trolled lures and rigged and live bait tossed to surface fish seemed to be the ticket for the marlin. Some boats mixed in some smaller smoke trail and jet heads and feathers to coax the dorado.
Bait Supply: Plenty of bait available for sportfishing at the $3.00 per bait upon exit from the harbor…Fishcortezcharters