Que Pasa
Stargazing

Night Sky Baja Star Finder, Low-tech planisphere for Baja (20- to-30 degrees latitude).
We make much ado about our Dark Sky Communities in the U.S. and Europe, but Baja gives them both a run for their money. I love the Night Sky app on my iPhone, but it doesn't work out of range of Wi-Fi or a cell tower. I used to travel with a round cardboard celestial map, long lost, like this one for Baja.
https://tinyurl.com/ybduyqy5
Coronado Islands
On the drop offs and boulder piles around North Island and up to Coronado Canyon, there are mostly just rockfish, with an occasional very good bite for quality reds, coppers, bocaccio, and miscellaneous other mixed bottom fish in the 250- to 400-feet depths. A stray bonito has been found here and there around North Island and the Middle Grounds; however, there haven't been any yellowtail reports recently…fishdope.com
Tijuana Bull Ring
Action seemed to improve noticeably as a little bit of mixed calico along with a sand bass bite were found recently on the hard bottom spots around the edges of the kelp.
Out in the flats, the mackerel have been thick and occasionally, a big wintertime yellowtail would cruise through, but there hasn't been a consistent, sustained bite to speak of. There have also been a few halibut; however, the prevailing south winds recently made it tough to set up on the spots holding the fish…fishdope.com
Ensenada
Bottom fishing has been the name of the game with limits or near-limits of a variety of rockfish and reds, plus plenty of whitefish to bend the rods in-between the sporadic sheepshead and grouper bite.
On the surface around Todos Santos, the yellowtail and calico bass seemed lethargic for the few boats that ventured out that way.
Surface action has also been slow with only a few bonito. There were also some halibut caught up to 10-pounds drifting over sandy bottoms at a depth of 50 to 75-feet.
Louie Prieto reported beautiful weather and great fun with the family catching one yellowtail, one lingcod, ten nice reds and many other assorted rockfish…fishdope.com
Colonet

Captain Gavin Harbour on the Pacific Queen made a game-time decision to head down the beach. And as you can see from the smiling faces of anglers Nick Lam and Steve Kohatsu, Gavin made the right call. Final boat tally was 71 yellowtail, all the bonito we wanted, (I kept one for poke and the Pacific Queen has RSW), lots of reds (probably 6 per angler?) and one lingcod (caught by my buddy, Matthew Lowe)… Joe Sarmiento
https://www.bdoutdoors.com/colonet-back-socal-fishing-reports/
San Quintin
A limited number of trips lately with mixed results in perfect weather and low-light conditions. There have been a few nice yellowtail taken on both iron and live bait for the lucky angler, or is it the skilled angler? And there were the standard limits of rockfish, lingcod, sheepshead and reds caught on live and chunk bait, enough to fill the coolers…Captain Kelly Catian
Northern Sea of Cortez Sector
From San Felipe past Gonzaga to Bahia de Los Angeles, local anglers are getting cabin fever as the North Wind does its thing like it does every year. However, they are starting to feel hopeful that winter is over.
An encouraging report from BOLA was that the weather has been perfect, but not the fishing, and that the cold, dirty water is clearing up.
Meanwhile, it's watch the weather and sneak out on the calm days. When a calm day happens, the best bet is bottom fishing for grouper, snapper and of course numerous spotted bay bass and triggerfish … all great table fare.
Laguna Ojo de Liebre
We named this super friendly whale and her calf, 'Schmoozer', as she hangs out schmoozing with humans all day long; her calf is 'Barrel' as he does fantastic barrel rolls — a lot!…Shari Bondy
Bahia Asunción

Fishing must be slow…
I went to visit Tanahiry Meza, a former Asuncion resident, who is now managing a club in Vizcaino. They serve their Tequila shots in cored cucumbers. Nice touch. Saves on dish washing and cleanup since most folks eat the cucumber after the shot…Ross Zoerhof
Loreto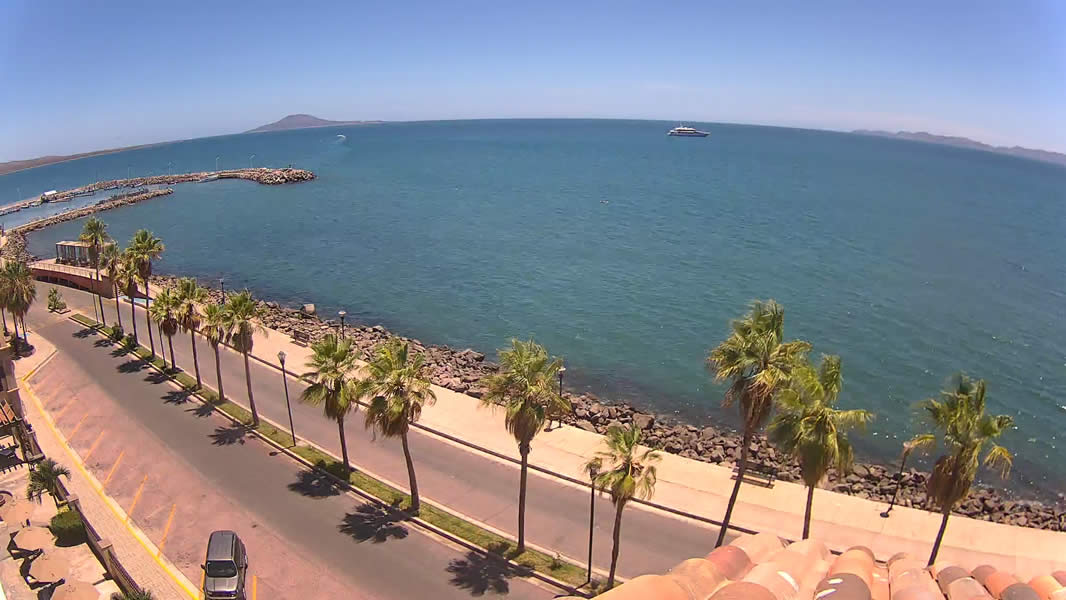 Not much change from last week's fishing except a different go-to location.
Farther north of the Candeleros high spot is the San Bruno high spot with most boats working this area all week.
"Tons" of yellowtail but very few biters and even still fewer getting to the fish box! On a good day the average was one yellow per boat with a few pushing 25-pounds.
The usual bottom fish are being caught in the same area and they continue to be on the small side.
Off the coast near Carmen's "Tinturera" we saw a decent pargo bite with several fish close to 20-pounds.
Live bait with mackerel being the best producer for both the nice-sized yellowtail and pargo.
As a water report for this week, everybody is amazed by all the bait in the water! Sardina schools are choking the water to the degree that I would think exploding fish would be a common sight.
The seasonal swarms of red krill are also being spotted but instead of mucking up the surface, they are all in bait ball shapes below.
Our divers report that the water temperatures are running warmer (62- to 65 degrees) than they would expect. Water clarity is also better than we typically see during whale season… Rick Hill, Pinchy Sportfishing
Magdalena Bay

Magdalena Bay Sport & Adventures #doingthedrone
La Paz
Mexican Minute La Paz Fishing Report from Tailhunter Sportfishing for Week of Feb. 4-11, 2018
East Cape
Van Wormer Resorts – A Flatlander's Vision Becomes a Family's Legacy
https://www.bdoutdoors.com/van-wormer-resorts-flatl
anders-vision/
Marlin on the fly! It isn't easy to pull the bait away from a hungry marlin, especially after having hooked and lost a couple on the fly rod earlier.
Thanks to Captain Arturo Silva, deckhand Jorge Antonio Castro Cosio, Agustin Silva and my girlfriend, Sheila Giovanna Verduzco, for your patience and help making it happen!"…Scorpion Sportfishing
Puerto Los Cabos
There are moderate numbers of tourists now, though not many are anglers looking to go sportfishing. The weather has continued to be a bit unpredictable from day-to-day, as is normal for the month of February. Recently conditions have been warmer, with mostly sunshine and highs up into the 80's. However, there has been some early morning cloud cover, burning off mid-morning. Wind has been lighter as well and there have been great ocean conditions most days with ocean water temperatures still ranging from 70- to 75-degrees. Clarity has been a bit off-colored on the Gordo Banks and on towards the north. Most fishing action has been centered from Iman Bank, to Punta Gorda, straight off of San Jose and towards Santa Maria.
Sardina were being netted near Cabo Real and towards Chileno. Strips of squid and some rigged ballyhoo were also being used along with the sardina. Mackerel and sardineta schools were still on local grounds and have been another bait option.
The action for the larger grade of tuna to over 100-pounds faded out on the Gordo Banks, mainly because the conditions turned over bringing greener water. There were some yellowfin tuna coming up on the Iman Bank earlier, but these fish proved very elusive and few were hooked. Mid-week there were sizable pods of porpoise encountered from 2- to 4-miles outside of San Jose del Cabo and towards La Laguna … the yellowfin tuna were traveling with them. Charters were able to land from one or two, to up to ten tuna weighing up to 35-pounds, depending on where they were at a given time. These schools have been moving quickly and must be chased around. Dropping various baitfish into the action has been
the best bet, as very few were striking on lures.
Dorado action continued with most of the fish being found within a couple of miles of shore; the majority of these were smaller with an occasional larger dorado in the mix. They were striking on bait best, with a smaller percentage on lures. Along the shoreline, particularly near Cabo San Lucas, off Chileno, there were some nice-sized sierra hitting on slow-trolled sardina, a few weighing over 8-pounds. Also, a handful of juvenile-sized roosterfish were hooked.
There has been more activity with the pelagic red crab drifting to the surface some days where they were netted and used for bait; also, there have been some decent catches of red snapper, though this was not a for sure, consistent bite.
Commercial fleets have been eager to get a supply of the red crab, at times saving some in make-shift live tanks to be used on the following day if they could not be found on the surface. This was the same scenario last year during approximately this same time frame.
Cabo San Lucas


Numbers at a glance: Billfish 58%, Tuna 20%, Dorado 52%, other 20%.
Great weather and great fishing in Cabo this week, with 63 out of our 65 boats catching fish. Marlin numbers are still the strongest with Golden Gate being the go-to spot for the best odds of catching numerous billfish in one day. More dorado have been showing up there as well, and tuna has been showing up closer in than last week – although many boats still have to go out several miles to find them. Other species such as grouper, snapper, rooster fish and sierra are being caught closer to shore.
The Pisces 31-ft. Rebecca started off strongly with the only blue marlin caught by any boat this week.
Anglers Greg and Jack Sullivan from Tucson caught and released the beautiful 500-pound (aprox) blue on ballyhoo bait out from Las Margaritas.
LOCATION: Golden Gate, Las Margaritas, Old Lighthouse and out 20+ miles for most boats looking for tuna.
WEATHER CONDITIONS: Calm seas, max wave height of 2 to 3 feet and mostly sunny skies.
AVERAGE WATER TEMP: 75 F
BEST LURES: Mackerel and ballyhoo bait, cedar plugs, feathers, and chumming for other/small game fish…Pisces Sportfishing Fleet by Rebecca Ehrenberg