Que Pasa

Sea Shepherd Conservation Society
"We fight for life … for biodiversity … #ForTheOceans!
Every single life matters.
Because in the end, "If the Oceans Die, we die!" …Captain Paul Watson.
Baja Norte
Lower 9 Mile Bank
Great cod fishing on the lower 9-Mile Bank. Lots of boats were done in 1.5 to 2 hours with limits of reds and coppers, but hardly any salmon grouper. Using strips of squid worked very well compared to using a whole live squid for bait…fishdope.com
Coronado Islands
The Islands got a good look again today. Dirty water in the flats, middle and South Island. Better water on the north end of North Island. Lots of bonito and bait balls north and east of North Island but hardly any yellowtail… fishdope.com
Tijuana Bull Ring
Good calico bass fishing in the kelp; sand bass in the flats plus a few halibut…fishdope.com
Ensenada

"Nice weather and a wide-open bonito bite — seemed like the perfect time for a Sussery Family outing." …Sammy Sussery
San Quintin
Fished with my friends Rosarito Jimmy, Joe Zuniga and Gill Lopez.
The weather was awesome … crispy cold in the morning and nice warm days.
The catching was a bit tough, but the fishing was great! We looked for yellowtail, but they
were tough to find and when we did hook some, we lost them.
Found good vermillion reds, big ones at that, so we did what we had to and bottom fished! Thank you all for a fun time…Captain Juan Cook
The boys from Culver Beer are in town for a few days of bending!
Capt. George Catian had the helm today and found yellows out on the high spots along with a bunch of the red kind too.
Great weather
Northern Sea of Cortez Sector
No Reports
Bahia Asunción
Every day a new adventure on the water. My friend Tim and I went fishing yesterday and we decided to try for halibut along the beach between Punta Loma and San Roque. We had no success on the halibut, but at one point we were sitting just outside the surf zone in water ranging from 8- to 12-feet — depending on whether you were on top of a wave or in the ditch. At one point Tim shouts 'whale'! Quickly checking the horizon, I looked at Tim and he is pointing down.
This huge grey whale, 35 feet or more, was cruising under my bow. His belly had to be inches from the bottom and he was coming within inches of my keel.
We never heard nor saw him coming and never saw him surface afterwards, but we floated in a big whale footprint for a few minutes!… Ross Zoerhof
Loreto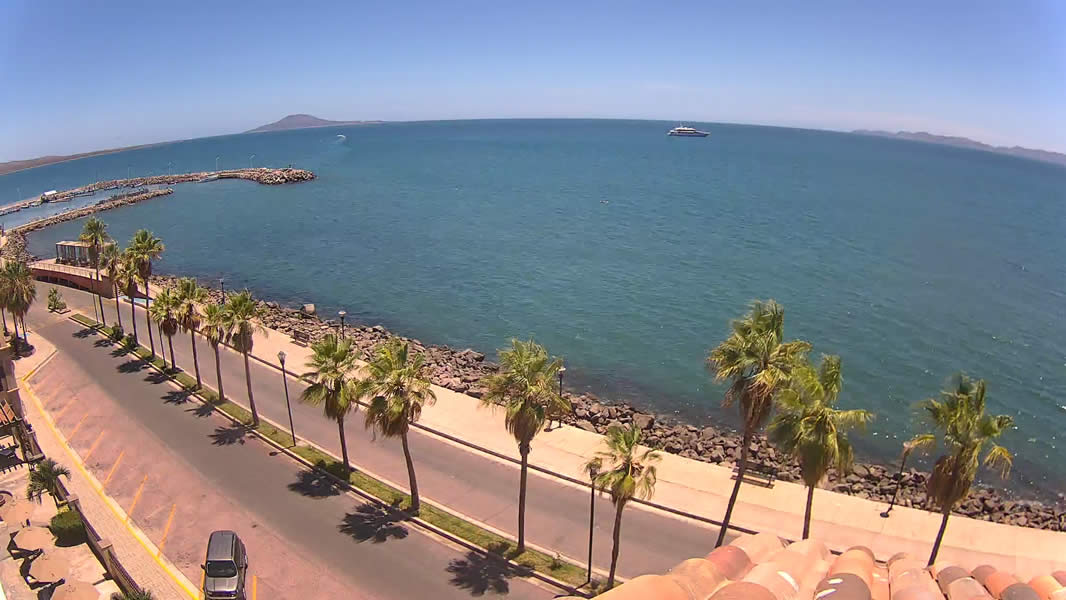 This past week mellowed out to only one windy day and one with flat seas and a sprinkle or two. Fishing has changed locations now that the slacking firecracker bite off Coronado Island totally fizzled out.
The weather change allowed the boats to break away from the current catch of foot-long pintos and reds as well. The "50 Spot" outside of Carmen's "Punta Lobo" was kicking out a nice assortment of hauchinango with many fish close to 10 pounds.
Live mackerel was the ticket for the bigger fish while smaller reds were landed with cut bait. Also mixed in with the cut-bait crowd were beefy whitefish and barred pargo.
Live bait has been slim at the bait receivers, but we had little trouble catching 10-inch sardina and mackerel off the south side of Coronado.
Big yellowtail have been hiding out in locations unknown at this time but the good weather will allow searches out to more of the distant highspots…Rick Hill
I just spent a week in the area, kayak and car camping at Ligui. Last hour of sunlight was
great fishing using rip bait for cabrilla, grouper, etc. at the reefs of nearby islands. Just find the reefs with drop offs. There's a tackle and hardware store in town. By suspending Thunderstick in purple hue (and Dawa SP minnow), the bite was wide open. Broke off 6 lures in 3 days on fish I could not turn in time. Also, schools of ladyfish to 5 pounds. They are like a small tarpon – a blast. Also got bit well on Colt Snipers in 48- and 60-mg. No soft plastics unless you like to feed triggerfish…Richard
https://www.bdoutdoors.com/forums/threads/shore-fishing-loreto-marine-park.676796/#post-4504188
Magdalena Bay
Spent three great memorable fishing days out of LopeZ — one day north towards Santo Domingo and two days south camping in the mangroves, half-way to San Carlos.
The fishing north was standard, very productive fo
r pargo rojo, etc. and corvina. No notable larger-grade of either but including our limit, we must have caught/kept/released over 50-plus pargo which was quite a lot of fun.
Fishing and camping south in the mangroves was very special as always … again making memories with the quality of the fishing… Brad Murakami
https://www.bdoutdoors.com/forums/threads/lopez-mateos-palometas-y-mas.674136/
Checking in: From the other end of the bay at Cancun were a bunch of the gang from Los Barriles on a weekend camping trip
La Paz

Mexican Minute La Paz Fishing Report from Tailhunter Sportfishing for Week of Jan. 28-Feb. 4, 2018
East Cape

Matt Clifton from…Scorpion Sportfishing found a few quality dorado before his beloved "Eagles" won the Superbowl…
Puerto Los Cabos
We have started the month of February, which locally has always been known to be full of unpredictable weather patterns, and sure enough we had a crazy start to this week. We felt strong North Winds out of the north for most of the week, cooler green water was pushing in from Los Frailes towards the Gordo Banks. Ocean currents were down in the 70- to 71-degree range, then the wind subsided and conditions were calmer. Low morning temperatures were up to 68-degrees and the water temperature warmed back up into the 74-degree range, as well as clearing back up to a nice blue color within a couple of miles from shore. On the Pacific, the water was up to 75-degrees. So, conditions were changing daily with daytime high temperatures reaching up to 85-degrees on some days. On Thursday we had a surprising amount of rainfall, as moisture sweeping in the from the southwest brought much-needed relief to the dry landscape.
Light crowds of visiting anglers were finding decent supplies of sardina, which are now being netted off the beach stretching from Cabo Real to Chileno. There were other bait options including mackerel, sardineta, caballito and strips of squid. Fleets were fishing from the Pacific Banks, Santa Maria, Gordo Banks and north towards Iman. Most common catches were dorado, which were found close to shore, as well on the offshore grounds, striking more often on baitfish, but also on trolled artificials. Average-size fish was under 10-pounds, though on the Pacific there were reports of a large-grade of dorado up to 20 pounds. Getting late in the season now, though the warmer water has kept these gamefish hanging around in local waters.
Wahoo were scarce; only a few fish reported off the East Cape, and a few more reports of these fish were found on the banks off the Pacific, where the warmest currents are now holding. It's very late in the season for these fish as well.
More billfish activity straight out of Cabo San Lucas and towards the Pacific, though a bit slower during this full-moon period. With only a scattering of the striped marlin now being encountered off San Jose del Cabo, they should start to swim in this direction in the coming months.
Yellowfin tuna were being found throughout the region, from the Pacific Banks to the Gordo Banks. No big numbers at all, though the yellowfin were a nice-grade … most of them ranging from 40 to 130-pounds. The largest tuna seem to be coming off of the Inner or Outer Gordo Banks. Drift fishing with various bait was the main technique; finicky fish, often they could be seen in numbers breezing on the surface, but they couldn't be enticed into striking the hooked bait; also there was continued heavier boat pressure on Gordo Bank, since this was one of the more productive areas now providing opportunities at quality fish.
Inshore had not produced much more than a scattering of small roosterfish and a few sierra, with more numbers reportedly on the Pacific. The bottom action was spotty, and there were strong currents much of the week. The most common catches were smaller-sized pargo, a few cabrilla and amberjack, as well as the ever-present triggerfish.
Plenty of whale action now … peak season for both humpbacks and grays.
Cabo San Lucas
The Pisces 42-ft. Yahoo did arrive at Golden Gate early this day and they made the most of it! They caught and released 10 striped marlin and 1 dorado! Anglers Guy Ward, James Roth, Michael Louden and Steven Targarona from Maryland caught all the fish on mackerel bait. The marlin ranged from 100 to 150-pounds and the dorado was about 15-pounds. The next day, the Yahoo with the same anglers, found luck again at Golden –this time landing 2 striped marlin weighing about 120 and 150-pounds each and 1 dorado weighing about 10-pounds, which hit on ballyhoo bait. The Yahoo was our top marlin boat this week with a total of 18 marlin caught and released.
Continuing from last week, we've seen the striped marlin catches abounding with slightly more dorado and many small game fish of good size caught as well. Crews have done a great job of finding tuna for those anglers hoping to catch them by going out long distances.
As for small game, there's been a little bit of everything still, making it very fun for anglers. For example, the 28-ft. Pisces Adriana headed out to Golden Gate and caught 1 striped marlin of about 110-pounds which they released. Then they headed closer towards shore, in from Golden, where they caught 1 rooster fish of about 10-pounds on mackerel, plus 6 decent-sized red snapper and 4 triggerfish by chumming.
LOCATION: Golden Gate, Los Arcos, Old Lighthouse, and 30 miles out of the 210 Spot for tuna.
WEATHER CONDITIONS: Clear and calm mostly, except one day of rain and some wind.
AVERAGE WATER TEMP: 76F
BEST LURES: Mackerel bait, cedar plugs, feathers and chum…Pisces Sportfishing Fleet by Rebecca Ehrenberg