Que Pasa

For the very first time a striped marlin won the IGFA Great Marlin Race (IGMR)! For 216 days, the striped marlin which was tagged off the coast of Balboa, Calif.
in October of 2016, swam an overall estimated track distance of 5,560 nautical miles to northeast of Hawaii where the tag popped off last May, 2017!
Thank you Team Dana Angling Club for supporting billfish research with sponsoring a satellite tag, and congratulations for winning the 2016-2017 IGMR. All the data generated from the satellite tag data is open-source and is being used by universities and educational institutions worldwide.
https://www.igfa.org/Conserve/IGMR-Satellite-Tag-Tracks.aspx
Baja Norte
Coronado Islands
Took a friend out fishing today. Thought about taking a shot at the tuna but decided to
go for the sure thing and hit up the Islands for bonito and maybe a few yellowtail. Water was 61 to 62.5 and a little green.
Found a huge school of birds and bonito working around the tuna pens. It wasn't a wide-open bonito bite, but it was still all you would want. Pulled a 10-pound yellowtail on a surface iron just outside of the pens. Checked out the rock pile for nothing.
Heard radio chatter of another "big" yellowtail caught just to the south of the pens. The San Diego hit the rock pile and the Islands, and pushed west outside of the Islands. The couple of times we crossed paths at the Islands, the San Diego was on the pick on the weather side of South Island and the weather side of North Island.
Anyway, we had a blast out on the water crushing bonito on bass gear. Throughout the day we found large roaming schools of bonito from the Lower 9 under birds all the way to the Rock Pile. Weather cooperated and it turned out to be a great day on the water! — Matt…fishdope.com
Ensenada
The sea temps remain higher than normal for November at a steady 65-degrees raising expectations for some decent catches for a little while longer. Seems to be more fish than anglers which is not unusual as the holiday season sneaks up.
When the weather cooperates, there's still some surface action. Breezing bonito are at the top of the list with the possibility of hanging a barracuda or even a yellowtail or two.
San Quintin
The local fishing is not exactly gone … just weather driven. Sure, the resident bottom fish, along with a few surface fish, are still around. I'm told the trick is to pick your days to visit based on recent weather trends and go for it.
Bahia de Los Angeles
I was just there last week. We towed a boat from San Quintin. Weather was mild and surprisingly the fish were very willing to participate in the action, probably because the water temps are still warm…Ted
https://www.bdoutdoors.com/forums/threads/whats-normal-to-expect-in-bola-for-the-week-of-thanksgiving.671229/#post-4457616
Playa San Rafael & Punta San Francisquito

Couldn't connect off the beach at SF because the fish were either too far out or moving too fast for me, but something big was feeding on the massive schools of bait near the shore. I did however find lots of pargo in the lagoon. No pics of the fish, but here is the lagoon…Bob
https://www.bdoutdoors.com/forums/threads/playa-san-rafeal-punta-san-francisquito-
Loreto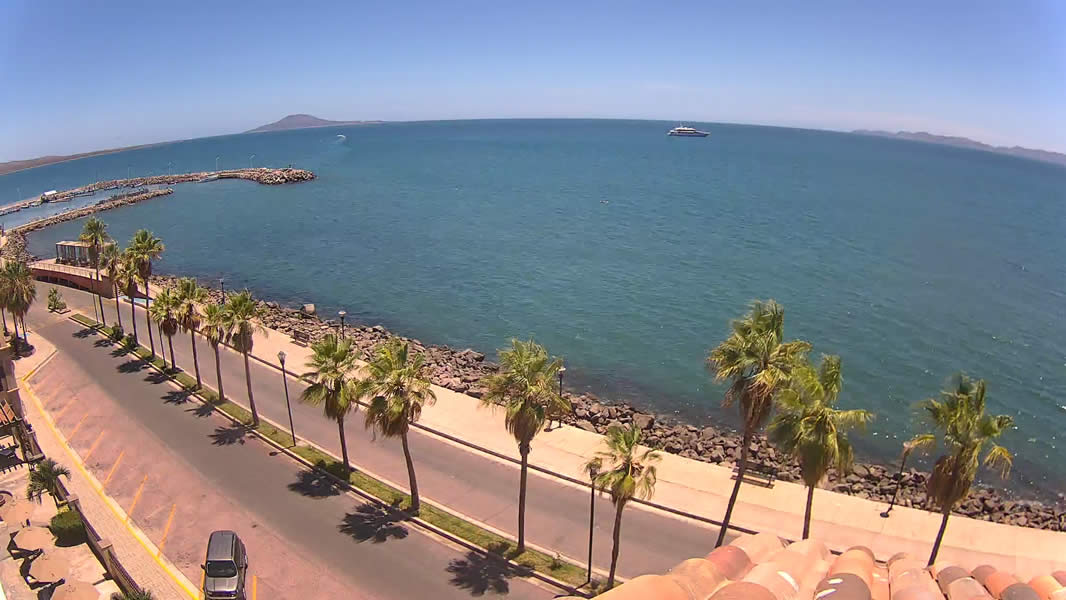 Fishing was good all week until the wind kicked up on Saturday.
Dorado are still around and the ones being caught are getting bigger. The average fish is 10 to 12-pounds which is close to double the size we were seeing in July.
One of the private boaters out of Loreto Shores put a lucky catch on board, but lost a 20-pound dorado at boat side.
It's not usual to see wahoo close to Loreto but a 30 pound 'hoo was gaffed five miles out from Punto Lobo in a slice of water were the dorado were hanging.
Roosterfish in the 35-pound range have been cornering schools of sardina on Carmen near the old salt mine north dock. We sat on top of some of that action while on a pleasure cruise … without any bait to throw!
As always the standard bottom fishing is good at the standard spot. Pargo, cabrilla, reds and pintos with Candeleros being the hottest spot.
Now the Baja 1000 has been and gone. Lots of race people and many fans tagging along in assorted off-road buggies are filling up the hotels and restaurants.
One of our whale watching group leaders was in town and we did some night shots…Rick Hill
We went out yesterday with some clients from Orange County on a full day charter. We trolled arou
nd the outside of Catalan half the day and found five nice striped marlin but couldn't get them to bite. We ended up giving up and went out to the canyon to find the porpoise. We ended up with five nice tuna and a few dorado.
We caught them all on cedar plugs under the porpoise; water temp was 83. No wind at all … perfect day. Heading out again today…Jay Yadon, Outpost Charters
Magdalena Bay

Captain Juan Cook from San Quintin joined Captain Ruben Duran for some nice robalo closer to the launch ramp in Lopez Mateos.
https://www.bdoutdoors.com/forums/threads/mag-bay-report-nov-14-robalo-too.671565/#post-4462046
La Paz
MEXICAN MINUTE VIDEO FISHING REPORT
I'm sorry…I gotta skip this week. After almost 10 straight months of 16-20 hour days, my voice is shot and so is my brain!
I'll give a round up next week! Oh…and my video camera is on the blink too! Thanks for understanding! Happy Thanksgiving everyone!
Mostly a lot of snow-birds coming to town now and not so many vacationers/ fishermen although this past week we had a full-house in La Paz with the Baja 1000 coming to town and a lot of fun. However, the majority of visitors now aren't coming to fish. Maybe a day-or-two. Like I said, many are snowbirds visiting from colder places, not coming specifically to La Paz because it's a fishing destination. They're coming because even though it's "winter", it's still a great sunny place to hang out in 80 degree temperatures!
But, just as well, because from November to April or so, is our off-season and north winds are already blowing stronger and stronger making it less than stellar conditions to be out on the water. Great to watch from a beachside cafe eating tacos and beer or with your toes in the sand, but there are days when even our tranquil little La Paz Bay is a cauldron of white-caps splashing spray on cars passing on the waterfront.
Even when the wind isn't blowing especially hard, it's blowing down the entire Sea of Cortez and it generates some big waves and swell. Large enough that either it's simply too rough to be out there or impossible to get out and off the beach.
We've already suspended our Tailhunter La Paz Fleet fishing for the season because of the erratic weather so we're fishing only with our Tailhunter Las Arenas Fleet out've Muertos Bay where the bay faces south and we can launch right off the beach and, if it is especially rough, we can fish closer to shore.
Earlier this week, it was pretty windy out there and fortunately, no one wanted to fish, but later in the week, we got some folks out and surprisingly, for this late in the year, we still hung some nice football tuna of about 10-15 pounds and good numbers of dorado. There were also bonito, cabrilla and some sierra, so a nice variety and good action, especially since these were folks who were visiting town and really only had one day to go out on the water.
The fish weren't too far off the beach, so no long boat rides even though there was some swell. This coming week, it looks like early in the week, we'll have a carbon-copy of last week with the windier days early in the week and better conditions later from Thanksgiving Thursday on.
East Cape
Kayak Fishing Shoot Out tournament, East Cape 2017: It is the first Kayak Fishing tournament, which takes place in the Eastern Cape or in this case Los Barriles, BCS. Promoted and organized by East Cape Water Sports (center of activities), being Hotel Palmas de Cortez Hotel in support of Van Wormer Resorts and Kayak Fishing Club La Paz.
This is a sport that in recent years has been growing…Van Wormer Resorts
https://www.facebook.com/permalink.php?story_fbid=174670013085876&id=170304436855767
It was an up and down week. Windy one day, beautiful the next. Pretty hard to get a fix on the fishing with few boats out…John Ireland
https://www.bdoutdoors.com/forums/threads/windy-one-day-beautiful-the-next.671878/
Puerto Los Cabos
Ocean temperatures are now in the 81- to 84-degree range, still a few degrees higher than normal for this time-frame. Early in the week we felt the season's first, consistent wind patterns from the north develop; this made for much tougher fishing conditions in the direction of the Gordo Banks, Iman and San Luis Banks.
Ocean water temperatures were still holding in the 83- to 84-degree range, several degrees warmer than usual, so we are anticipating having good action throughout the month of December as well.
Despite continued heavy pressure, the supplies of sardina have been holding up, being netted along the beach stretches from Palmilla and farther south. This meant a bit of back tracking or waiting near the marina entrance, but at least this preferred bait was available; anglers also continue to use slabs of squid.
The Gordo Banks slowed down, but was still the place to look for possibly the largest of tuna, though this week we only heard of a couple of fish in the 150-pound range … none were over 200 or 300 pounds.
A few black marlin still hanging around in the warmer currents and with all of the tuna around, there's plenty of food source for the marlin. Lots of natural food on the banks as well which can make the larger tuna more finicky. Most day's charters were returning early, plugged with tuna, the majority was the smaller grade, but still nice fish.
Dorado continued to be harder to come by with only a sporadic fish or two being found; most all were under 15-pounds with an occasional exception close to twenty.
The wahoo action has not really broken open yet, though we have had a taste of some decent action, and some boats were fortunate to get lucky and land as many as four in one morning, although other boats were searching hard and felt lucky if they landed one.
Best chances for the wahoo seemed to be from the Iman Bank and to Vinorama striking on various Rapalas, lures and bait. We are hoping that as crowds lighten up some, the wahoo will become more active, with the warmer water hanging around the prospects remain high for the next few weeks.
A few more sierra starting to appear, even though the water is still warm. In the next month we should see some better inshore action happening … perhaps more off-the-bottom as well…Eric Brictson, Gordo Banks Pangas
Cabo San Lucas
It took the 85-year-old Payson resident approximately 45 minutes to land the 356-pound black marlin.
Logue figures the fish was about 75- to 100-feet behind the boat when he hooked it, but said it soon increased the distance.
"He took off to maybe 400 feet," Logue said. "I felt like I was going to have to wind forever to get this fish."
The retired hospital administrator was fishing in the Bisbee's Black & Blue Tournament 50 miles off the coast of Mexico near Cabo San Lucas on Oct. 26.
The crew aboard the Chupacabra, a 64-foot Hatteras, was about to pack up for the second and final day of the tournament and head back to shore when Logue hooked the monster fish just before 5 p.m., when fishing for the contest ended for the day.
"We were all getting ready to pull the gear and head back to Cabo," Logue said. "You have to get a hook in the fish by 5 and we got it at 4:59. We landed it by about 5:45 or 5:50.
"I was sitting in the chair with the reel in my hand when I started fighting the damn thing. It was a tough fish. The crank was hard to turn on the reel because he wanted to go one way and I wanted to bring him the other way."
"It made my arms and back pretty tired," he said. "It can wear you out pretty good. But that's part of the battle, man against fish."
Logue said he's fished since he was a boy. His previous big fish was a marlin weighing approximately 250 pounds.
He said their boat won about $69,000 this year. Of course, he didn't see much of that.
"I got just a stipend to go down and back," he said. "So I got something."
But it really wasn't about the money for Logue. His big prize was the priceless memory of hooking and reeling in a monster…by Keith Morris roundup sports editor
http://www.paysonroundup.com/outdoors/hunting_and_fishing/payson-resident-reels-in-a-monster/article_eea8a348-e5a1-5f1f-934e-484b5eed2571.html
There has been some terrific fishing and catching from Cabo San Lucas recently and unquestionably, the bite was on for most of the anglers as well as for most of the species. The billfish action included blue marlin, black marlin, stripers and sailfish, while in the hook-to-table category the dorado, yellowfin tuna and wahoo were the most popular. For just plain fun there were ample skipjack, jack crevalle and roosterfish to put a bend in the fishing rods. There has also been a consistent bite of the "always go to" bottom dwellers when the surface action slowed … an excellent bite for most of the anglers, a bite that spanned a wide area, although, the better bite was south of Cabo Falso at about 14 or 15 miles.
Cabo Climate: Mostly sunny and warm days with a daytime average of 84.8 degrees and nights at 72.5. The average humidity ratio was 65.5% for the week.
Sea Conditions: The Finger Bank and southerly, across the Golden Gate Bank and the Jaime Bank, down across the 1000 Fathom Curve, are at 81-82 degrees. Cabo Falso and southerly to the Herradura is also at 83 degrees. The 95 Fathom Spot and northerly to the 1150 Fathom Spot, up across the Gorda Banks and on to Los Frailes, are at 83.5 degrees. Tropical surface breezes flowing in from the southwest averaged 8.14 mph for the week with lots of clean water in most all directions.
Best Fishing Area(s): Most of the billfish were taken in the area of the Herradura and the Jaime Banks. Dorado and the tuna were taken in a variety of regular spots that have been producing well over the past several weeks.
Best Bait-Lure: The billfish bite was best on rigged bait with a few taken on live bait. The tuna taken mostly on feathers of different colors and dorado taken on live bait, rigged bait and an assortment of trolled artificials.
Bait Supply: A good supply of caballito at the rate of $3.00 per bait continues to be available to the fleet…Larry Edwards, Cortez Charters


After fishing my first Bisbee's Black and Blue last year on team C Bandit (we took 2nd overall) I knew I had to fish the Bisbee's again. This year I joined team Chinito Bonito with owner Davis Ahn, Captain Evan Salvay and deckhand Sam Long along with Davis' friends…Zac
https://www.bdoutdoors.com/forums/threads/bisbees-black-and-blue-2017-photos-5th-place-overall.671563/#post-4460295