Que Pasa
BCS Introducing New Tourism Tax
Baja California Sur will be the first state in Mexico to introduce a tourist tax which will take effect starting in December. Before you get all riled up, the tax will come to approximately $20 USD, so it's hardly going to affect your vacation. And that money will be put to good use.
Around 95% of the revenue collected will go toward
s infrastructure projects. Los Cabos alone could bring in almost $40 million US dollars from the tax!
Despite the potential revenue, the tax has been controversial since it was proposed. Those against it believe that tourists already contribute enough to the economy and they worry that the tax will keep away future visitors.
Cruise passengers will be exempt, as they are in Cabo less than 24 hours. And it's not clear if the tax will be levied on national tourists or just international tourists…Gringo Gazette
Baja Norte
Coronado Islands
There has been very good fishing for 8- to 20-pound yellowtail, large bonito and a good showing of bluefin tuna. The best tuna area was down at the Rockpile as the water was super clean and blue.
The bluefin are all in the 15- to 20-pound class with most right at 18 pounds. Slow-trolling sardines on 30- to 40-pound test line was working great although sea lions were a major issue. They seem to have a taste for bluefin, along with yellowtail.
Speaking of yellowtail there were plenty of those at the Rockpile, along with some big 5- to 10-pound bonito.
Up at the Islands there is a mix of bluefin and yellowtail near the tuna pens in the Ribbon Kelp area and on the Ridge in the Middle Grounds.
There are also yellowtail, big bonito and a few bluefin in the Key Hole area at North Island.
Tijuana Bull Ring
Over the past week there has been good action on mixed-grade bonito and 5- to 10-pound yellowtail. The area out just west a few miles toward the Coronados has been the best area.
The boats are trolling feathers and Rapalas to locate the fish and then fly-lining sardines after a troll stop…fishdope.com
South 9 Mile Bank / Coronado Canyon
Only report from this area today was for a double on big bonito just west of the Islands. Most are driving right through heading for points south and not giving this area much of a look.
425 / 101
There are kelp here holding yellowfin and some also have a few dorado and yellowtail. It is hit or miss and for sure the better action is coming
from tuna on kelp with lesser amounts on jig stops off porpoise. As is often the case, many of the kelp are empty, but if you find one holding it likely has plenty of fish on it…fishdope.com
Ensenada
475 Knuckle / Upper Hidden Bank / West of Ensenada / Banda Bank
This remains the best area for yellowfin. There are a couple of marked kelp that the boats are hitting daily that are holding large volumes of yellowfin.
Most kelp are holding at least a few tuna and some are holding dorado and a few yellowtail as well.
Keep those trolled jigs out while kelp-paddy hunting! Skipjack are eager to jump on the jigs and those stops are very often turning into yellowfin after just a few minutes…fishdope.com
San Quintin

The Pedregal, where other than a bass and two short halibut (from my kayak), I caught endless bonefish! Those guys are the strongest fish I have handled, pound-for-pound…Daniel Powell
Cedros Island
It's been an impressive half-month of October with a never before experience full of big schools of dorado and yellowfin tuna, with yellowtail on the mix. It's not that yellowtail are not abundant, but the overwhelming majority of tuna and dorado (and bonito) make it hard for these to bite first. Some school-size yellowt
ail hang out on the surface (20 to 30 pounds) while the big guys (50+pounds) seem to prefer to stay deeper.
Easy limits for most of our boats on dorado and tuna … often after a few hours during the morning! Afternoons, more relaxed "catch and release". Calicos are big to the southwest kelp grounds. Young kids get an easy start on the fishing experience at Cedros thanks to the abundance of fish and closeness of the fishing grounds … practically 10 minutes from the lodge.
Its great to hear a 10-year-old angler tell you that this has been the "most fun Friday of his life", or receive an email saying "Thank you for an amazing daughter and dad trip!!! Was epic!!"
These are the reasons our crew works really hard every day. Interesting enough, this trip combined one of our youngest anglers, 10-year-old, with one of our oldest, 92-year-old, a more than 80-year gap, showing that we have options in service for everyone!…Jose Angel, Cedros Outdoor Adventures
Bahia de los Angeles

In Bahia de Los Angeles, fishing with Cliff Vine, bait was tough to make but we made enough, and ended the day with 8 white seabass from 12 to 18 pounds and 3 smallish tails to 16 pounds … nice day on the water, mostly flat and blue….Captain Juan Cook
Bahia Asunción
Great morning fishing with Capt. Juan in Bahía Asunción. Eric caught 4, but I caught the biggest…. lol Kim Jacobson
There are some good indications that wahoo may yet be on the menu as there are lots of bonito, flying fish and barracuda; Rossman saw a big wahoo a few days ago as well as marlin…Shari
https://www.bdoutdoors.com/forums/threads/asuncion-fishing-season-kicks-into-gear-in-october.669161/
Loreto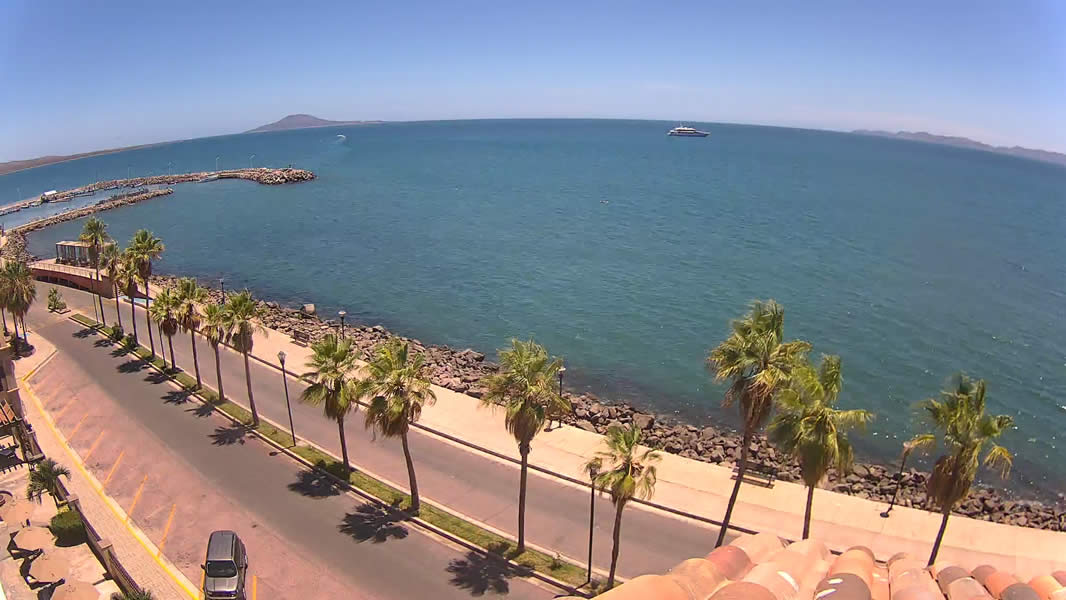 With the award of the First and Third places with golden pieces weighing 59.8 and 11.4 pounds, the Gringo V
iejo team placed as the grand winner of the First Sporting Fishing Tournament Festivities of the Foundation of Loreto 2017, winning $ 16,000.00 pesos, that they donated to the cancer control organization, OncoLoreto.
Second place winner was the Don Emilio team, with a gold prize of 11.7 pounds. Also the teams Mijito, Martinez, Blue Anchor 2, Nautiluis, Blue Anchor, Carrillos and Chepes, in addition to the winning teams were awarded entries for the Grand Final Dos Mares 2018 held in August 2018…Andrés Córdova BCS
#castnreel resorted to their drone to finally locate the dorado; they clearly missed the dinner bell last summer.
If anyone were to ask me what time of year is best in Baja I wo
uld have to it's this time….after the stormy season (which might only be a 18 hour hurricane) and Thanksgiving!The water is crystal clear and warm and the fishing is worth the day on the water.
This week is a repeat of last week with good catches of cabrilla and pargo along the coast near Punta Colorado and San Bruno. The deeper spots are kicking out yellowtail and a few baquita with many stories of "big ones" breaking off. Almost all the boats are returning to the docks with at least 2 dorado and as it's been all year, they are small versions of the ones we caught this time last year. Sardina and mackerel are doing the work with cut mackerel working well where the live ones don't!…Rick Hill, Pinchy Sportfishing
Magdalena Bay
Double trouble Sunday … the day before yesterday.
It has been a bit of a slow start for October outside of Mag Bay, but it's starting to pick up. November should be prime time!…Bill Erhardt
https://www.bdoutdoors.com/forums/threads/thetis-bank.668968/
La Paz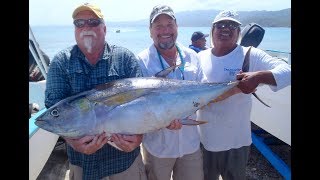 Tailhunter International, La Paz, Mexico,
Weekly Video Fishing Report Oct 8 – 15, 2017
East Cape
The 11th annual Casting 4 Souls event in Los Barriles. Thousands of shoes, shirts, socks, sunglasses, reading glasses and more were handed out to the East Cape community. A wonderful event!!

Posted by Eddie Dalmau on Thursday, October 12, 2017
Went down to East Cape and participated in the 11th annual Casting 4 Souls shoe giveaway Oct 4th – 8th.
I fished two different Palmas de Cortez hotel boats. Thursday, my buddy Larry Moore (Anglers Chronicles) and his brother, Lee, fished J&B. The crew was outstanding.
Then we went north where the fleet was on a mostly small tuna bite. Most of the fish were 5 to 10 pounds but Larry did manage a 41-pounder that frankly kicked his butt. I am sure he would be the first to admit it. I told him that if he needed CPR he was gonna die.
We were fishing and chumming with sardina and the trick was definitely to slow-troll and chum the fish into your wash. 20-25-pound was bit well, but I can't really say fluoro was bit better on this trip…Zaneangler
https://www.bdoutdoors.com/forums/threads/east-cape-fish-report-and-charity-shoe-giveaway.669316/
Nice tuna on Mi Pistola with Captain Danny Marron…Van Wormer Resort
Limits of yellowfin and dorado for all anglers coupled with another big week for wahoo with 50- to 70-pounders coming in daily. The top quality fishing has continued for another week with a strong bite in all departments. There's plenty of sardina, caballito, mackerel and squid available…John Ireland
https://www.bdoutdoors.com/forums/threads/limits-of-yellowfin-and-dorado.669513/
Wahoo big and small love Rapala XRap Magnums. The little one was released to become the biggest, smartest wahoo ever…Matt Clifton, Scorpion Sportfishing
Puerto Los Cabos
Large crowds of anglers are arriving early this fall season and sportfishing fleets are very busy with near capacity crowds. Weather settled down after we saw very strong wind gusts last Sunday, which lingered until Wednesday; the wind limited what options were practical, especially in the direction of Vinorama … being too far north when the south winds picks up is not fun.
Calm days are prevailing once again and anglers are scoring well for both yellowfin tuna and dorado.
Ocean swells were minimal, supplies of sardina were still holding up and anglers were also using strips of squid. Ocean temperature was averaging in the 82- to 85-degree range. Water color was clean and blue close to shore. Most productive fishing grounds were found from the Gordo Banks north to Vinorama. Drift fishing over the various high spots produced limited numbers for yellowfin tuna, most of which were in the 7- to 15-pound class, but every day there were much larger yellowfin found mixed in the same schools, or on other quieter locations, that were ranging up to 80+ pounds. The tuna were a bit line shy and anglers found better success using lighter leaders, though then they were in trouble if they hooked a larger fish.
This week we saw larger numbers of dorado moving onto the same tuna grounds, striking on trolled lures, as well as on various baits. Most of the dorado found weighed under 15 pounds with an occasional larger bull reported. Only a scattering of wahoo were seen, though they are in the area. On Thursday there was a 50-pound wahoo landed out of Puerto Los Cabos; this fish hit on a strip of squid … (lucky!) … with no wire leader. Actually, more wahoo were talked about this week, as compared to last. They did show more signs of activity, although usually it's the first part of November when they start biting more readily.
Not much billfish action, though there was a 200-pound blue marlin landed off of a panga early in the week. A few sailfish were scattered about as well. Bottom action consisted of huachinango, yellow snapper, cabrilla, island jack, bonito, pompano and amberjack — no big quantities…Eric Brictson, Gordo Banks Pangas
Cabo San Lucas
Los Cabos Billfish Tournament schedule;
October 16
6:15 a.m. to 7:30 a.m., the 43 entries in this year's event will participate in the visual checkout from Cabo San Lucas and Puerto Los Cabos Marinas. Lines in start fishing at 7:30 a.m. Lines out stop fishing at 4:30 p.m.
October 17
6:15 a.m. to 7:30 a.m., visual checkout from Cabo San Lucas and Puerto Los Cabos Marinas. Lines in start fishing at 7:30 a.m. Lines out stop fishing at 4:30 p.m.
October 18
6:15 a.m. to 7:30 a.m., visual checkout from Cabo San Lucas and Puerto Los Cabos Marinas. Lines in start fishing at 7:30 a.m. Lines out stop fishing at 4:30 p.m.
October 19
7:00 p.m., Gala Awards Banquet, Playa Grande Resort Beachside Terrace
WEIGH-INS
Weigh-ins and billfish release video check-in will be at the Marina Fundadores weigh station.
This week the fleet found skimpy billfish including black marlin, blue marlin, (all released) along with a handful of stripers (released), sailfish, plus wahoo, skipjack and
oodles of dorado that are gaining momentum.
All in all, it was an action packed week for the anglers and it will probably continue on the upswing for the next month or more.
Cabo Climate: Daytime temps at an average of 88.5 degrees and nights at 77.7 degrees. Humidity ratio averaged 70%. Overall, it's been a mostly cloudy week with occasional peek-a-boo sunshine on some days.
Sea Conditions: The Finger Bank and southerly to the Jaime Bank, was all at 83-85 degrees. Cabo Falso to Los Frailes was varied from 81 to 84 degrees. Tropical surface breezes flowing mostly from the westerly directions averaged 10.1 mph and provided fair fishing conditions throughout the area.
Best Fishing Area: All of the regular hot spots were catching this past week, including Herradura, Pozo de Cota, Jaime Bank, El Faro and the 1150 Fathom Spot. Almost any direction produced dorado action on most any given day.
Best Bait or Lure: The blue marlin were biting best on the bigger artificials and the dorado also have been very active on a variety of smaller artificials, including tuna feathers and diving lures.
Bait Supply: The bait supply is fine at the $3.00 per bait rate paid direct to the bait vendor at time of receipt…Larry Edwards, Cortez Charters