Editor's Note: Check out the latest Baja Bytes weekly sportfishing report and see what's happening below the border.
Que Pasa
Offshore, from the border to San Quintin, bluefin counts on sportboats continue to rise as the weather settles down. Inshore the water remains chilly thus far. On the Sea of Cortez side, the temps are continuing to climb and Loreto is kicking out yellowtail along with bottom fish.
From La Paz to the tip, the early summer bite is shaping up nicely. Inshore roosterfish and wahoo are holding court, while limits of yellowfin are common. Billfish in double-digit numbers are still an item. Last, but certainly not least, are the big dorado that are being caught from Loreto to Cabo San Lucas. Details below.
Baja Norte
Tijuana Bull Ring
Primarily rockfish. The kelp line does have some bass, barracuda, and mackerel, although most are shorts.
Coronado Islands
Yellowtail action is getting good! Fleet boats out of San Diego have had near limits of yellowtail to 25-pounds; one returned early with full Mexican limits for all aboard.
There have been a lot of yellowtail, barracuda, and bonito around, though the tiny fin bait has been a problem. It appears the fish are stuffed full of 1″ anchovy. However, the bite is improving every day, and it seems as though it will continue to do so.
Recently, there have been two classes of yellowtail around — some 15- to 25-pounders, mainly on the weather side of North Island, along with some out on the Middle Grounds and the inside spots like the Gun Site. These bigger ones are mostly coming on the anchor while chumming and fly-lining sardines and/or mackerel.
The other yellows are from 6- to 12-pound fish and are mostly found roaming around following spots of anchovy. They are anywhere from the Flats, just below the border, to the Middle Grounds, the Flats out to the East of South Island, the Lighthouse kelp down through SKR and to the Rockpile, and possibly farther down the line. The Flats area between SKR and the Pile in 200′ of water has been a very productive zone.
The yellows are working these schools of anchovy, and when they do the birds get on it, so it isn't hard to find when it's going down. Jigs are working well. Try a Tady 45 in mint, scrambled egg or blue/white; another option is trolling Rapalas.
Some barracuda are inshore near the Bull Ring, and some are scattered about on the Flats. The Middle Grounds have some as does Ribbon Kelp, South Kelp, and the Rockpile. In these latter areas, the 'cudas are mixing in with the yellows under birds.
Coronado Canyon / 425
Bluefin have been found in the Canyon. Although they didn't want to bite, there were a few 50-pound class tuna caught on fly-lined sardines and Flat-fall jigs.
230 / 371 / Upper Hidden Bank
There are plenty of tuna around, but they continue to be locked in on tiny 1″ anchovy and not very interested in any kind of hooked bait or jigs. The general area has slipped back to the south a bit.
Not much up on the 302 now. Most of what is being found is from the 371 to down just west of the Upper Hidden Bank.
East of both the Upper Hidden Bank & Hidden Bank
This zone has some bluefin and kelp paddy yellowtail although we have not heard of anybody fishing the area for a couple of days now.
Ensenada
At that time there was outstanding 'run and gun' fishing for 6- to 12-pound yellowtail from the south end of Todo Santos Island to Punta Banda. The guys were getting them by sliding up to foamer bird schools and casting surface iron like a Tady 45. Mint and scrambled egg colors were working well. There has also been some barracuda and even some seabass mixed in with the yellows working these bait schools.
San Quintin
Locals report that sporadic winds backed off and a group of anglers was able to take advantage of the weather change. Fishing the 240 Spot for yellowtail failed to produce any in the chilly 54-degree water. Several other spots did produce some whitefish for the gang, though there were still no red crab to be found in the chilly water.
Cedros Island
Yellows in the 15- to 34-pound range were biting very well this trip right in front of the marina. Flat-fall style yo-yo jigs were working best along with surface iron in mint colors.
Lots of yellows were also on the high spots along the South end of the island.
Calicos in the 1- to 3-pound class were biting well on red plastics as the island is loaded with red crab. Tons of fun bait is around as well…Jeff Mariani, Cedros Tackle
Bahia de Los Angeles

Despite a red tide that moved in, there have been thick schools of mackerel near the launch ramp early mornings with nice-quality yellowtail between 12- and 18-pounds. Ambient temperatures are climbing fast in the low 90s as spring settles in. Still, on some days there are some rogue north winds to deal with.
Bahia Asuncion

Brand new spiffy Repsol Service Station if you are headed that way.
Loreto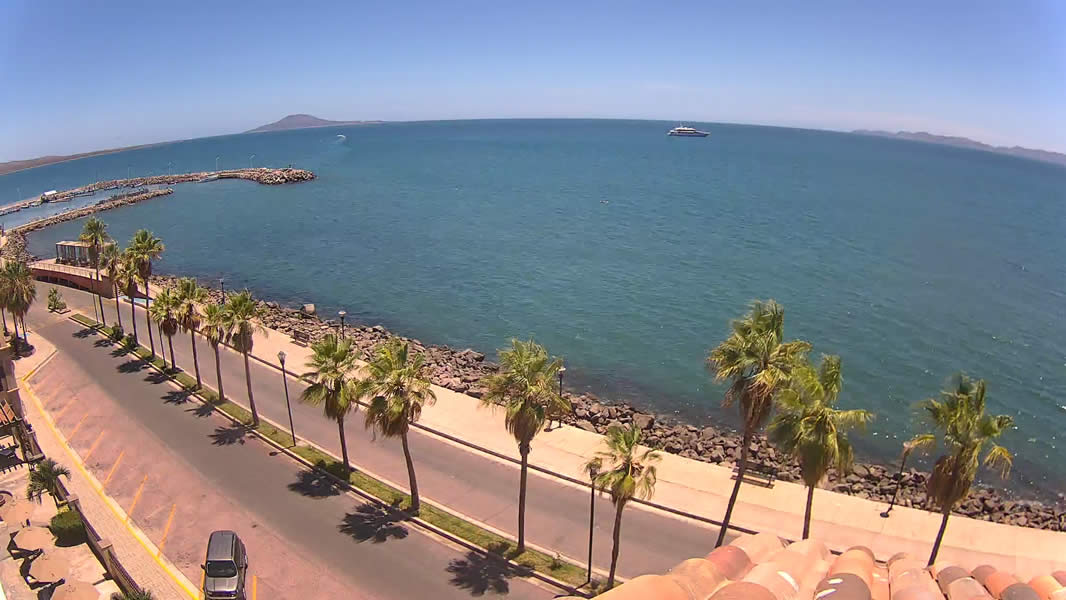 Any day now!
The calendar, the air and water temperatures are all saying it's time to greet our annual visitation of dorado. I guess they haven't gotten the word yet, at least as far as today's fish count states.
All our resident fish have awakened and are doing their part in the big picture, but all the talk I get are the dodo questions. There must be some cat blood in those dorado somewhere because they will do what they want, when and where, too!
Seriously, it's just at the beginning edge of the dorado and billfish season and we are hoping this year's showing will outshine the last 3 years!
The firecracker yellowtail flurry has settled down with the 'tails that hit the fillet table closer to mediums –14 pounds.
Cabrilla and pargo are in the count every day, with most fish averaging 8 to10-pounds.
Surface water temperatures are running mid-70s. However, our divers do a little whining — "30 feet down there is a cold thermocline…. brrr!"
La Paz

MEXICAN MINUTE LA PAZ FISHING REPORT from TAILHUNTER SPORTFISHING for WEEK of May 27-June 3, 2018
The weather has been starting to get as hot as the fishing on the East Cape. Conditions have been near perfect with the exception of a few windy days here and there.
Tuna, tuna, tuna!!! The tuna fishing continues to be red hot. Almost all boats willing to make the run outside to find porpoise have been coming home loaded with yellowfin tuna. Once found, the tuna are chowing down on pretty much everything you put in the water. Cedar plugs and hoochies are really all you need. A little bigger variety hit the decks with live bait. We should start seeing some bigger models mixed in soon…Scorpion Sportfishing ft. El Regalo
https://www.bdoutdoors.com/forums/threads/scorpion-sportfishing-ft-el-regalo-east-cape-report-may-26-2018.689536/
We had a couple of nice dorado hit the dock. Both dorado were in the 40+ pound range and were a very welcome sight. One was landed on the Mahi Mahi and the other on the Pez Vela. Both were hooked while trolling for marlin and are pictured below. We hope this is the first sign of a good dorado bite…stay tuned…Van Wormer Resorts
https://www.bdoutdoors.com/forums/threads/van-wormer-resorts-fishing-report-5-23-18.688376/
Puerto Los Cabos
We are again seeing more tourists arriving, and many are family groups. The weather has been ideal — progressively becoming warmer, but still in the comfortable range; highs have been in the mid- to upper-80s.
Ocean swells have been light, winds minimal and fishing action is on the upswing. The most consistent fishing action has occurred from San Jose del Cabo and to the north where ocean temperatures have been in the upper 70s.
Although supplies of sardina have remained consistent, this time of year is when these smaller baitfish migrate out of the area, and that could happen very soon. Sizeable schools of mullet and caballito are now in the area. Offshore more bait activity was found — chihuil, skipjack, sardineta and even some mackerel.
The striped marlin bite that had scattered is now going strong on the Desteladera Bank, where concentrations of baitfish are located. Charters are reporting multiple shots for stripers daily, mainly while drift fishing as well as trolling bait.
After being gone for nearly a week, the yellowfin tuna were located again, having moved from La Fortuna and Iman Bank to the Vinorama area. Although a long ride north for local fleets, these yellowfin were located within one mile of shore. They were striking best on either slow-trolled or drifted sardina. Lots of black skipjack were on these same grounds as well. The tuna found on these grounds were about 70-pounds and proved to be finicky, striking best on 30- to 40-pound leaders.
It's necessary that you play out these larger fish for up to an hour in order to land them. Boats have been catching up to five fish, though the majority were fortunate to land one or two.
A few more dorado were seen recently, though they are very spread out, and most were under ten pounds; there have been no wahoo to speak of yet.
The inshore action was mainly for roosterfish and jack crevalle, and most of the roosterfish were in the 25-pound range, though a few much larger fish were released. We expect the largest roosterfish to appear over the next three weeks.
Cabo San Lucas
Numbers at a glance: Billfish 49%, tuna 43%, dorado 22%, other species 27%.
Another great week of fishing here in Cabo, with the marlin numbers still strong and still more tuna. The dorado has finally shown up, with 17 of them caught by Pisces fleet boats this week. The water and weather are both warming up here, giving us a strong start to our June season. Everyone is looking forward to the tournaments beginning this week.
Top billfish boat this week was once again, the 31-foot Pisces Rebecca, with 21 billfish caught and released. This included one sailfish and an astonishing 9 striped marlin caught and released in one day, by solo angler Jon Svendsen, from Scottsdale, Ariz., on the 31st of May. His marlin hit on a caballito out at Destiladeras on the East Cape.
The sailfish caught aboard the Rebecca hit on caballito out at Punta Gorda. Anglers Jordyn and Maurice Sessel released the fish along with one striped marlin caught there as well.
For tuna, The Pisces Knot Workin' caught 16 yellowfin, all around 15-pounds on cedar plugs and feathers, out at the Old Lighthouse, as well as one striped marlin, which hit on caballito and they released it. Anglers were Geoff Johns, Jeffrey Garawacki, Kevin Keisler, Samantha Hussain and Steve Tiberg, all from Texas.
Cabo Climate: The month of May finished with mostly sunny skies; average daytime temps were in the 80s with evening temps in the low 70s. The two-week outlook is favorable heading into summer with daytime temps predicted to be in the mid-80s and evenings in the mid-70s with no precipitation predicted through the middle of June. Winds are expected in the 10- to 14-mph range and humidity is expected to run in the 65 to 75% range through the middle of June — a beautiful beginning for summer.
Sea Conditions: There have been relatively calm seas throughout the area with some surface chop occasionally stirred up by surface breezes at 10- to 14-mph mostly out of the WSW. The forecast is for more of the same with winds in the same range out of the West and WSW. Sea temps around the Golden Gate and Jamie Banks are warming into the 71- to 72-degree range. Water around Cabo Falso east to the Gorda Banks is warmer in the 73- to 74-degree range.
Best Fishing Areas: El Faro was apparently the hot spot this past week for both tuna and marlin. The Herradura Area also produced both tuna and marlin in this week's Baja Bytes weekly sportfishing report.
Best Bait & Lures: Feathers and cedar plugs have been the favorite for tuna while trolled smoke trail lures have been the favorite for marlin. Live bait tossed to tailing marlin was also successful.
Bait Supply: Plenty of bait has been available at the $3.00 per bait rate upon exit from the Harbor.


My annual Birthday Baja Trip didn't disappoint!
Wide open fishing, great friends and of course, my awesome, beautiful wife
Cabo has the best mix of great food, drinks, fishing and views of anywhere. …Derek
https://www.bdoutdoors.com/forums/threads/cabo-birthday-trip.690247/
Renegade Mike and his Capt./mate Caesar hooked up a few for the anglers. They ended up releasing about five or six. The biggest going 50 pounds, one went 30 pounds with a
few others in the 20- to 25-pound range. They lost several larger ones right near the boat as we were fishing light leaders and the fish chewed through the line! We also had several Jack crevalle that we released.
https://www.bdoutdoors.com/forums/threads/trophy-roosterfish-have-in-cabo-area.690020/
Mainland Mexico