Que Pasa
Double-digit striped marlin, hungry roosterfish to 50-pounds plus, limits of yellowfin tuna. That's the Baja I'm talking about!
Pick your spot, check your tackle and sharpen your hooks.
Baja Sur is on fire!
VMC Inline Single Hooks Can Upgrade Your Lures
It's funny just how skeptical we fishermen are of things that fall outside the accepted norm.
https://www.bdoutdoors.com/vmc-inline-single-hooks/
Baja Norte
Tijuana Bull Ring
Local fishing remains slow … unless you have anchovy and you are willing to get right into the kelp. With the 'chovy the bass are a little bit more willing to bite but nearly all of them are shorts. Only one in maybe 10 or 20 is of legal size.
Rockfish action is also on the slow side — no doubt due to all the red crab that is blanketing the bottom in 180- to more than 350-feet of water at the Mexican Border.
No new reports of any of the mixed yellowtail and bonito that were being seen down near the International Reef. Of course they could pop back up at any time so keep an eye open for bird schools.
Lower 9 Mile Bank / Coronado Islands
Very few boats are fishing the Islands right now in favor of the bluefin and kelp-paddy yellowtail offshore.
If you do want to come look at the last known yellowtail area, it was from below the Lighthouse to  SKR and down to the Rockpile. There was also a little bit of this happening just west of South Island on the inner edge of the Coronado Canyon.This was bird school – run & gun fishing! Mixed in with the yellows were some barracuda and bonito.
Early reports had some guys finding a few kelp holding some 6- to 10-pound yellowtail. There was also a report of open-water yellowtail just out to the west of South Island.
A huge 14-pound bonito that jumped on a trolled cedar plug shortly after 9 a.m was reported. But otherwise, local fishing remains slow.
No reports of any bluefin in this area although there certainly could be some around especially at the lower end of the 302.
230 / 371 / 390 / Upper Hidden Bank
This remains the primary zone for the bluefin.
There are also some bluefin being seen in the 295 area again, but as far as we know nobody is running there with these tuna being so much closer.
Today the area looked at the most was just east of the one being hit for the past couple of days.
In the morning hours the tuna bite was very slow. The boats saw bluefin and a few schools responded to chum, but none wanted to bite anything with a hook in it.
In the afternoon the tuna showed much better than during the morning hours but they still didn't want to bite anything with a hook in it.
Kelp paddy yellowtail on the other hand were showing much better this morning after being on the slow side for a while. It is still a little hit or miss but you might find a good one with lots of yellows on it…fishdope.com
Ensenada
Little surface action forces angler to settle for limits of bottom fish.
San Quintin
Still quiet as most prefer the Sea of Cortez side.
Cedros Island
Season beginning to heat up as the yellowtail and calico shake off the cooler water sluggishness.
Northern Sea of Cortez
Bahia de Los Angeles
 Best Time/Place to catch roosters – Gonzaga or Bola?
https://www.bdoutdoors.com/forums/threads/best-time-place-to-catch-roosters-gonzaga-bola.687524/
Gonzaga
Pesca La Baja Tournament held Saturday; however no news on the results.
Bahia Asuncion
OK, I've had enough of this cold wind and cold water. I'm off on a road trip on Monday morning. First stop is Bahia Gonzaga for a few days of fishing and de-icing!
From there I'll try to find a good wind and tide window to hit San Quintin for a couple days of halibut fishing. At this point it doesn't look too good, with a lot of wind predicted day and night for the next ten days, but I'll keep checking.
Next is a possible stop in Bahia de Los Angeles for a final warm up before returning to Asunción. That will put me into June and hopefully conditions will be improving in Central Baja. I have already told Niko that we are going on a "road trip" so he has parked himself in front of the door. I have to step over him in order to get in and out. I undoubtedly will forget to take something important on this trip, but it won't be him!…Ross Zoerhof
Punta Chivato
One marlin was caught here a few days ago. Unfortunately, they took it. Water is about 73. Little wind, great weather.
We had a wide-open snapper, corvina and pargo bite this a.m. — from the beach! Got the boat fixed, went out but saw very little.
Heard of one dorado caught…Craig Cove
Loreto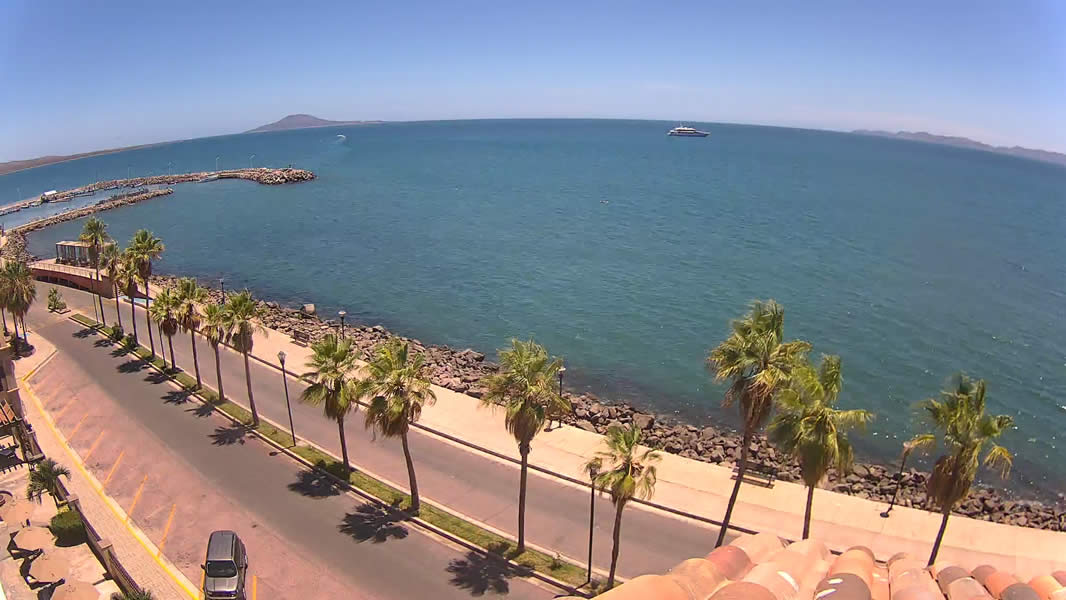 The scent of dorado has sneaked through the back door at Loreto.
Water temperatures for most of the area is still a little cold but things are looking up.
Dorado, dorado, dorado are just around the corner!
https://www.bdoutdoors.com/loreto-dorado-make-early-showing/
Some large rafts of sargasso are floating near town now; if we could find them out in the current lines we could put some more dorado on ice!
Striped marlin have been turning up their noses at the big mackerel we have been offering but they are "looking."
Yellowtail, along with a sprinkle of cabrilla, have been in the fish count with most fish (landed) being 12 to 18-pounds. A few fish were lost and one or two yellows are on ice and that has been the average catch for most boats.
Pargo, roosterfish and many schools of sardina are all around Coronado Island in shallow water.

Better than green wash-ups on the beach would be rafts of floating sea weed on the horizon…Rick Hill, Pinchy Sportfishing
La Paz

MEXICAN MINUTE LA PAZ FISHING REPORT from TAILHUNTER SPORTFISHING for May 13-20, 2018 PHOTO
Last week was a great week of flyfishing; my second annual trip was with a group of gals who had so much fun wrangling some huge roosterfish, dorado, snapper and lots more with the help of our knowledgeable captains, they increased their skill levels. And of course, they practiced salsa dancing with my all-woman hotel staff…Gary Bulla's Flyfishing Adventures
East Cape


"The Van Wormer Resorts' fleet found good numbers of tuna approximately 20 to 25 miles off the lighthouse. We have been seeing many pods of dolphin and porpoise holding tuna in the 10- to 30-pound range. The striped marlin bite ignited three days ago with a large school moving up the coast following bait schools. A mixed bag of roosterfish, jack crevalle, African pompano, grouper and snapper made up the inshore catch. The weather has been just beautiful in the mid- to high-80's and water temps are ranging in the mid- to high -70's. Notable catches include a blacktip shark snagged in the tail with a @Rapala lure and landed! That's a first. Our top day on the tuna was 18 and 8 for striped marlin."
Los Barriles, Baja California, Mexico, is a favorite Angler Chroniclesdestination! Sergio, Ron Hobbs, Larry Moore, and Jack McCulloch Jr. (Fishers of Men West Coast) will be there soon!

A very, very good week of fishing … arguably the best of 2018.
https://www.bdoutdoors.com/forums/threads/arguably-the-best-week-of-2018-so-far.688027/
Puerto Los Cabos
Winds from the north have resided; more breeze now on the Pacific side. Also much cooler and greener water to below 70-degrees on that side of the Peninsula, while off of San Jose del Cabo and towards the East Cape the ocean currents are in the 76- to 78-degree range. This is where the clear blue water is, along with concentrations of baitfish and in turn the more productive fishing opportunities.
Supplies of sardina remain steady; schools of these baitfish are now back in close range, just north of the Puerto Los Cabos Marina jetty. Other bait options were mullet and caballito, as well as rigging ballyhoo or finding bait offshore, such as skipjack and chihuil.
The yellowfin tuna bite has been concentrated near the La Fortuna or the Twenty-Five Spot, just inside of the Iman Bank. Drift fishing with sardina for bait has been the best bet for this, though these yellowfin remain finicky. An average size for the tuna was in the 20- to 60-pound class. Only an occasional dorado was even being seen, but a handful of wahoo strikes were reported.
Shallow water rock piles are now holding a variety of species; the best bite did seem to be earlier in the day. Amberjack up to 30-pounds were coming to the surface, not a normal action for these jacks, but it is the time of year when it can happen. Quite a few yellow snapper are being found, some over ten pounds: island jack, surgeon fish, leopard grouper, barred pargo, rose spotted snapper, sierra and pompano were also accounted for, so basically a smorgasbord of quality-eating fish. We saw one sierra about 12-pounds, end of the season for these members of the mackerel family, time of year when the big ones show up.
With more mullet now moving into local Baja inshore beach stretches, we are also seeing increasing numbers of roosterfish arriving. The majority are still under 20-pounds, though larger specimens were reported. The next few weeks is when we usually see peak action locally for the larger grade of roosterfish.
The action for striped marlin broke wide open this week, particular during the latter part of the week, with the best action being found from the Gordo Bank north to Desteladera Bank. Marlin were coming up and feeding on balled up baitfish and boat battles ensued; the first few charters arriving on the scene hooked up and then everyone waited for the stripers to come back up on another bait ball. Also, many marlin were striking on trolled lures, though the higher percentage of hook ups were from live baits such as caballito, chihuil or skipjack, as well as rigged ballyhoo…Eric Brictson, Gordo Banks Pangas
Cabo San Lucas
Numbers at a glance: Billfish 57%, Tuna 18%, Dorado 2%, other species 14%.
Marlin numbers seem to be spiking this week, with six striped marlin caught by 35-foot Va-lerie and 31-foot Ruthless on their luckiest day. The weekend brought with it various numbers of stripers per boat, found far up the East Cape, past Punta Gorda. Jack crevelle and a nice wahoo were some of the smaller game catches, with yellowfin tuna still found about 30 miles out.
The Pisces fleet caught 140 fish total for one week, 60 being marlin, 55 tuna, 1 dorado and 24 smaller game fish. All marlin, except for one were released, and catch limits were respected.
LOCATION: Destiladeras, Punta Gorda, Old Lighthouse and 30 miles out to 120 Spot.
WEATHER CONDITIONS: Beautiful sunny skies and calm water.
AVERAGE WATER TEMP: Water temp varied from an average of 72 F to 84 F from East Cape to areas farther South.
BEST LURES: Caballito, mackerel, cedar plugs.
I emailed you last year about the amazing rooster bite in Cabo during June. I went out in May and caught two roosterfish over 40-pounds. We ran out of bait by 11 a.m. as schools of marauding jack crevalle kept beating the roosterfish to the bait. We saw literally hundreds of roosters and jacks schooled up on the Pacific side. The roosters were only interested in live bait. I tried every lure in my tackle box, but at best all they would do was follow.
The next day we never found the big roosterfish but caught some nice yellowtail slow trolling live bait. Also caught some big Colorado snap
per and a pile of sierra. There are schools of jacks everywhere but today they had lockjaw… Joel Greenson
Did the yearly Baja trip with my buddy and fished with Jaime and his friend Chris. They worked hard for us as always and we killed fish (marlin and rooster released). BTW stayed at Hotel Mar de Cortez and it was totally legit if you don't mind being off the beach…Richard
https://www.bdoutdoors.com/forums/threads/csl-with-jaime-5-11-16.687861/
Just got back from Cabo … here is my great report!!! Sammy
https://www.bdoutdoors.com/forums/threads/just-got-back-from-cabo-here-is-my-great-report.687697/