Que Pasa
BD is adding a new feature this month … a list of sportfishing tournaments that are held during each current month will be published on the first Monday of every month throughout the fishing season. With the cooperation of the tournament administrators, we will post the results the month following.
Click Here TOURNAMENT PAGE
Just returned from Loreto, where I had joined the SAC team led by SAC President, Capt. Ken Franke; Kenia Zamarripa, SAC Director of Marketing and International Affairs; Laura Patella, co-owner of the long range American Angler; and Pete Gray of the Mighty 1090 Radio Show with his sound engineer, Rick Cutler.
Representatives of both local sportfishing and tourism, along with government officials from Loreto and Baja Sur, turned out in force to tell the large audience of the "Let's Talk HookUp Show" what Loreto had to offer.
To listen to the show;

First Hour: click here
Second Hour: click here
Baja Norte
Coronado Islands
Recently the water has been trying to clean up a little bit; North Island has some clean 62-degree water push in at times but South Island is generally remaining dirty green. Even in the clean water, though, there hasn't been much sign of yellowtail – only a few bonito…fishdope.com
371/425/Upper Hidden Bank
Bluefin are showing okay again but for the most part they are not biting well. Most of the activity is generally between the 371 and 230, with good numbers of all three size grades mixed throughout. There are also a few widely scattered spots of the bigger grade bluefin to the SE…fishdope.com
Ensenada
It began at 11:00 a.m. — smooth seas at 21 miles above the Banda Bank aboard Tin Man when Lee Madding, owner and his team for the day, Steve, Mike and Captain Hando, used a lite rod with Penn 12LT, 60-pound test with bonito belly as bait, for what they thought was a mako shark until a swordfish surfaced with their bait in its mouth. The fight ensued for nearly seven hours all fighting the monster that they estimated to be 12-feet long; they had it alongside the boat seven  times but couldn't subdue the thrashing fish.
Finally, the exhausted crew gave up and cut the line because of angler fatigue.  Later back at their slip Madding observed,
"If you weren't there you wouldn't understand how under-gunned we were with the tackle — it just didn't work out," he concluded.…Coral Marine Store
San Quintin
Fun Crew trip…..my wife and I on the Parker and my son George Catian and Grandson George Jr on the Panga…..Lots of yellowtail up in the dirty water. They weren't​  chewing that great…. mostly run, n, gun on birds….all on surface iron… Purple/black was the color…Kelly Catian
Bahía de Los Ángeles
Driving south, the toll road had oncoming and going traffic on the same side for a short time. There is a new Navy Check point before the grade south of Ensenada.
Construction crews are widening the road going up the grade.
The worst part of Mex 1 is after the turn off for San Felipe at Laguna Chapala to Punta Prieta BoLA turn off, go slow; major pot holes, very bad. The three bridges headed into BoLA are finished and are very nice. …Derek
https://www.bdoutdoors.com/forums/threads/bola-memorial-weekend.657325/
Gonzaga Bay
The second of four Pesca La Baja events will be held at San Luis Gonzaga, June 16-17 and will be based at Hotel Alfonsina's, followed by the third at Bahía de Los Ángeles, on July 21-22 at the local launch ramp. A competitive event, it is a fiesta wrapped in a proven tournament formula attractive to local and visitors alike. For more information http://www.pescalabaja.com/
Cedros Island
Locals reporting excellent fishing for trophy-sized calico bass biting plastics.
Loreto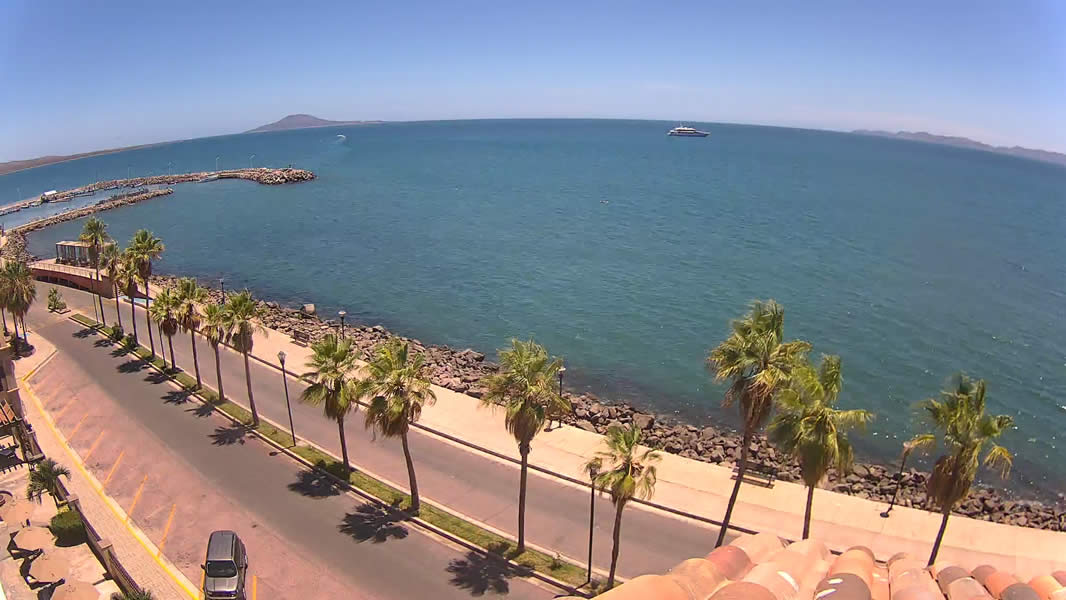 We are right on the edge of the summer 2017 fishing season in Loreto.
The water temperatures have been bouncing around from 71 to 76 degrees which is just a bit shy of what we need for "blast off"!
Dorado have been spotted working in shallow waters on the bait schools.
Both beach combers and kayak paddlers have reported airborne bait schools with small dorado in hot pursuit.
Marlin are in the area and we should start hooking up with them. Last year the early bite on the striped marlin happened out on the high spots.
If you find yourself dropping a mack to the bottom only to have it become weightless halfway done … be prepared for a billfish fight, complete with an 8-ounce sinker swinging off your leader!
Bottom fish are still this week's performers with some decent catches of yellowtail and small (15-pound) baqueta.
Mackerel are still available most days outside the marina. We are holding our breath on the sardina count. Hopefully they will be thick all summer long so we can stir up the dodos and the roosters…Rick Hill, Pinchy Sportfishing
Cast N Reel with Kathy Hunter at Outpost Charters.
La Paz
Jonathan Roldan, Tailhunter International
East Cape
If its Wednesday, we are catching #wahoo. Oh, look its Wednesday!!! #wahoowednesday #eastcapebaja #ownerhooks #rapalausa #bdoutdoors #fishshimano #aftco #letstalkhookup

Posted by Scorpion Sportfishing on Wednesday, May 31, 2017
Fish Scorpion and El Regalo
Marlin are around in big numbers, spread all over the East Cape. Tailers are grabbing tossed live bait while other stripers are hitting lures. Rancho Captain Ramon on his panga lost an estimated 800-pound black marlin this week after a three-hour fight…John Ireland
https://www.bdoutdoors.com/forums/threads/dorado-marlin-tuna-and-wahoo-by-the-dozen.657855/
Southeast winds from 7 to 16 knots made for a few bumps and whitecaps, but all-in-all it was a very good week for fishing. Water temperatures ranged from the mid-70s to low-80s…Felipe Valdez
https://www.bdoutdoors.com/forums/threads/hotel-buena-vista-east-c
For those on the cusp of an East Cape trip–you're probably going to score. Things finally cut loose a bit, with that great late spring variety in effect. Conditions were clear skies, glassy to 15-knot south winds, and water bouncing around the mid-70s…Scott
https://www.bdoutdoors.com/forums/threads/east-cape-jen-wren-may-21-26.657415/
Puerto Los Cabos
Ocean conditions varied greatly from the Pacific and in the direction of the Sea of Cortez, with Pacific water being very green and cold — as chilly as 65 degrees, while in the direction of San Jose del Cabo and towards Los Frailes, water temperatures were into the upper 70s, even up to 80 degrees in some areas; also water clarity was much better, clean blue water found within a couple of miles of shore. Bait supplies consisted of sardina, caballito and now large schools of mullets are appearing along the local beach stretches, behind schedule this season; also reports of bolito and more skipjack schooling on the offshore fishing grounds.
Roosterfish action rebounded in full force in recent days as the influx of baitfish has also attracted the greatest numbers of roosterfish that we have seen so far this season. The hot spot was off of Cabo Real, as well as off of the many other favored beaches.
Anglers had best success while slow-trolling mullet or caballito outside the surf zone; many roosterfish to over 30 pounds were landed and we expect in coming weeks that even much larger fish will arrive.
Please remember that these prized fighting trophy fish should be released with proper care when at all possible, as these gamefish are not known for their eating qualities, but rather for their fighting stamina. We should all help preserve this unique fishery for future generations. Same inshore grounds are producing late season sierra to 8 pounds and some hog-sized jack crevalle to 25 pounds. We expect that the dogtooth snapper will be more active along the rocky shoreline stretches in the coming weeks, now that their favored food supply of mullet has arrived.
This weekend is the traditional holiday of "Dia de la Marina", always a heavily celebrated event out of the La Playita, Puerto Los Cabos area, with nightly dances, crowning of the princess, dorado tournament and many other activities planned — be aware of the heavy crowds and very limited parking areas. Dorado are very scarce, but an occasional fish is being found, so the stakes will be wide open for any team fortunate enough to land any size of dorado.
Surf fishing events are held as well; a couple of large snook were landed this week off the shore, as well as a few halibut, so the shore-fishing action could be interesting.
Yellowfin tuna action is spread out. Some fish are being found on trolled lures in the direction of Cabo San Lucas with other action near San Luis to Vinorama. The bite had become very slow early in the week, but rebounded as the week progressed; drift fishing with sardina, strips of squid or chunks of skipjack all produced, as well as slow-trolled caballito — no big numbers, but quality fish averaging 30 to 50 pounds. One larger yellowfin weighing over 100 pounds was reportedly taken by a local pangero during a late afternoon trip. When targeting the tuna, anglers were lucky to land a couple of these fish, (with others possibly lost), though catching a couple of these made it a great trip.
Shallow water bottom action was very good for such exotic species as surgeon fish, island jack, yellow snapper, barred pargo and some leopard grouper, amberjack and plenty of triggerfish in the mix; not many large bottom fish now, but all very quality eating. It's a great time to load up on some of the finest-eating fillets.
Not many striped marlin being hooked, though quite a few were being seen tailing on the surface, but were not aggressively striking lures or bait at this time. This action could break loose on any given day because decent numbers of the striped marlin are in the area, from the 95 and 1150 spots, to closer to shore as well. Early in the week there was a lot of wind on these grounds…Eric Brictson, Gordo Banks Pangas,
Cabo San Lucas
This May has not been a usual May for Cabo San Lucas — the wind has been blowing almost all month. The bite has been ON and OFF on different species, ending the month with as wide open a bite on rooster fish as we have seen for a long time. Let's see what June is about to bring us…Martin Olascoaga
https://www.bdoutdoors.com/forums/threads/cabo-san-lucas-may-report.657558/
What a great weekend this will be.
Headed to Cabo to partner with Red Rum and Veteran Outdoors in the "Fish A Day In My Shoes" event!
This event is a great opportunity for us to give back to these great Veterans and have them enjoy a day on the water with us fishing/catching and having a good time!
Thank you Ryan Donovan for allowing us to participate! See you soon! — at Team Reel Quest.
Veteran Outdoors angler/vet, Hubert(o) Gonzalez catching and later releasing his first Striped Marlin aboard "Oh So Rojo" yesterday afternoon. The boys are about to enjoy a "beach day" today, stand up paddle boarding and hanging out on Auriga this afternoon! Thank you Pelagic and Kryptek Outdoor Group for making sure these guys look good while kicking a$$ on the water!!

Posted by Redrum Sportfishing on Saturday, June 3, 2017
Veteran Outdoors angler/vet, Hubert (o) Gonzalez catching (and later releasing) his first striped marlin aboard "Oh So Rojo" yesterday afternoon. The boys are about to enjoy a "beach day" today … stand up paddle boarding and hanging out on Auriga this afternoon! Thank you Pelagic and Kryptek Outdoor Group for making sure these guys look good while kicking a$$ on the water…Redrum
The billfish catching continues to be on the slow side for the fleets and while there are some bite opportunities scattered over the area, trying to find the one that will bite continues to be most difficult and continues to suppress the billfish catch reports. The bright spot for the week was the bigger roosterfish bite that continued again and provided some terrific action for some of the anglers.
Cabo has been producing some very nice-quality roosterfish that have been ranging in size from about 25 to 30 pounds. to about 55 pounds or so, with the bulk of the action in the Chileno area.
Cabo Climate: A terrific and near picture perfect week of sunshine and daytime air temps that averaged 76.8 degrees and 69.7 for the nightly averages. Humidity ratio averaged 70.14%. One breezy day caused the Port Captain to close the port for a half-day.
Sea Conditions: Water temps from Finger Bank to Cabo Falso varied from 69 to 71 degrees. Cabo Falso to Cabo San Lucas held at 75 degrees and Cabo San Lucas to Los Frailes varied from 76 to 80 degrees with temps rising slowly into the Sea of Cortez.
Best Fishing Area: The billfish are scattered about the area with the bulk of the sleepers being seen on the Sea of Cortez side of Cabo in varied locations from close in to the off shore banks — but no specific best bite area. The roosterfish are showing well and want to bite in the Chileno area.
Best Bait or Lure: Live bait seems to be working best for the billfish and the roosterfish.
Live Bait Supply: A very good supply of caballito at the $3.00 per bait rate…Larry Edwards, Cortez Charters.