Que Pasa

The Bisbee East Cape Offshore Tournament's payout once again had a substantial increase in overall cash prizes.
Team Red Hot had the best hard luck story of the tournament. They lost one fish only to quickly hook and land a second that was light by 7-pounds of tying with Mi Corazon; team member Quintana added that they had also released one striped marlin.
Almost everyone was commenting on how great the fishing had been during the tournament and one of the crew members aboard Sneak Attack echoed the sentiment. "We had a Grand Slam today with three blue marlin, one striped marlin and a sailfish.
Two of the blues were borderline qualifiers, yet it still accounted for the 'Best East Cape Day' we've ever had!"
For the results and the wrap-up of the ECO, https://www.bisbees.com/News/Article/31
Baja Norte
Coronado Islands
Boat traffic is putting the damper on the bluefin bite, although the boats are still metering plenty and catching some so the fish are still around.
Same location … best zone has been from the Lighthouse down to SKR with the Bull Kelp and the 5 Minute Kelp areas working, too. They are also being seen at the weather side of North Island near the Key Hole.
Fishing for small yellowtail is good to excellent.
The Middle Grounds are loaded with 3- to 7-pounders. There are also yellowtail along the weather side of North Island and in the lee of South Island.
Ribbon Kelp is a spot worth checking out; you'll likely score some barracuda there, as well as some big bonito. Most barracuda are in the 6- to 8-pound class but some toads up to 12-pounders are being caught daily.
Overall the fishing is very good right now.
FYI: The Mexican Navy is active and checking boats for all the required permits. Best bet is to gather all the paper work for each passenger and store it in a zip lock bag so it is easy to hand over when they come asking for them. Stay upbeat, courteous and Smile! Don't give them any reason to get nasty with you.
Evening Update: Bluefin fishing today was slow. Two days of tremendous boat traffic is the cause of the slow down. There is a good chance the bite will rebound next week.
In the meantime, the yellowtail fishing remains very good and there are plenty of big bonito around, too, if you want those.


This screenshot pretty much sums up the action at the islands. We fished the South Island on Friday and today for limits of yellowtail by 9:30 a.m., and today we released at least double that number as well as a good number of barracuda and bonito.
Saturday we went from the South 9 to a little past the 425 and had limits of yellowtail by 9:30 a.m. for four guys. We only caught 1 dorado but about half the paddies we saw had fish — some with well over 50. About half the paddies produced…fishdope.com
South 9 Mile Bank/Coronado Canyon
Big bonito are in the Canyon and there are yellowtail and dorado on kelp.
371/425-101/Upper Hidden Bank
This has become the new "Go To" area as the stuff farther down the beach has slowed way down. Most kelp in this zone have dorado and yellowtail on them and a few have small yellowfin on them too.
Ensenada


Went out with Memo on the Dorado Fishing Boat (also known as the banana because it is bright yellow) in a nasty choppy sea; trolled out past Todos Santo Island, got hit a few times by little rat bonito and promptly threw them back, when suddenly my reel starts screaming. …Ed
https://www.bdoutdoors.com/forums/threads/ensenada-todos-santos-island-fishing-report-7-31.662964/
West of Ensenada/Hidden Bank/Upper 500/238
Well, it had to happen sometime. The kelp paddy fishing in this area has slowed way down. What was slam dunk fishing has turned into scratch hit- and-miss fishing with many boats struggling to make a decent score.
Yes, there are still some kelp holding dorado and yellowtail but the volume has disappeared and not every kelp is holding.
San Quintin
You bet…but no farming on this day with Ricky Sonoda…Captain Kelly Catian
It's wide open … yellowfin, yellowtail, a few dorado and good bait.
Fished today, 8/5/17, and found the area; put out the trolling gear. 30 seconds later we had a triple, started dropping flat falls, colt snipers, 6xjrs which all got bit … made a three-mile drift and limited out…Captain Juan Cook
https://www.bdoutdoors.com/forums/threads/wide-open-san-quintin.663398/
Cedros Island
Pending
Bahía de Los Ángeles
We were on a school of tiny (less than 5 pounds) ones about a week ago.
Bigger ones should be around now. Released one and moved on. Water was 86 degrees — a couple miles East of LaGuardia Island, South PoinT…Wet Willy
https://www.bdoutdoors.com/forums/threads/bola-report.663035/
Loreto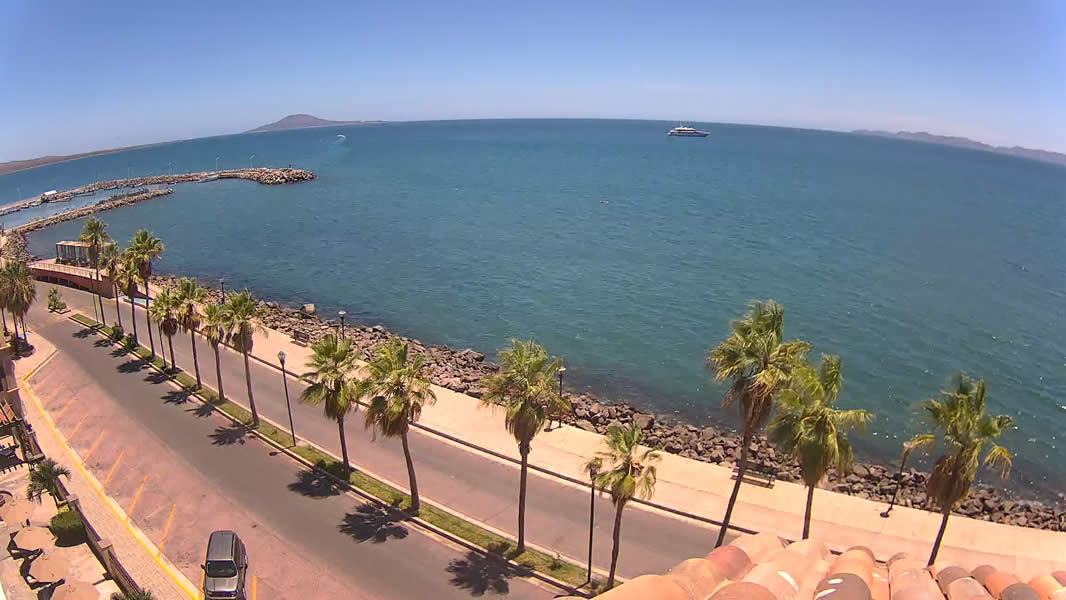 Summer weather is putting the hurt on the fishing crowd with daytime temps midday at 95 degrees with 50% relative humidity.
The air is hot, the water is mid 80s and the fishing is good.
I'd love to say the fishing is great but the size of the current batch of dorado are still on the small size.
Plenty of fish and lots of fish-catching options…
One client is here wanting to tie into some marlin and sailfish only to find no bills and only little dodos.
No tears, happiness has arrived in the form of roosterfish, pargo and cabrilla. Even the break-offs can be more exciting than the panfish that most boats are following.
One change that is worthy of note is the arrival of bonito. I am not sure what that means but they seem to be late getting to town. Normally we are seeing them in mid-June. Come to think of it, they usually are in the same body of water with our allusive billfish and big bull dorado.
If you want to battle a big fish this week your best bet are the big roosterfish. Slow troll a live lisa around the mouth of most bays and you should find some action…Rick Hill, Pinchy Sportfishing
Magdalena Bay
PENDING…Bob Hoyt
La Paz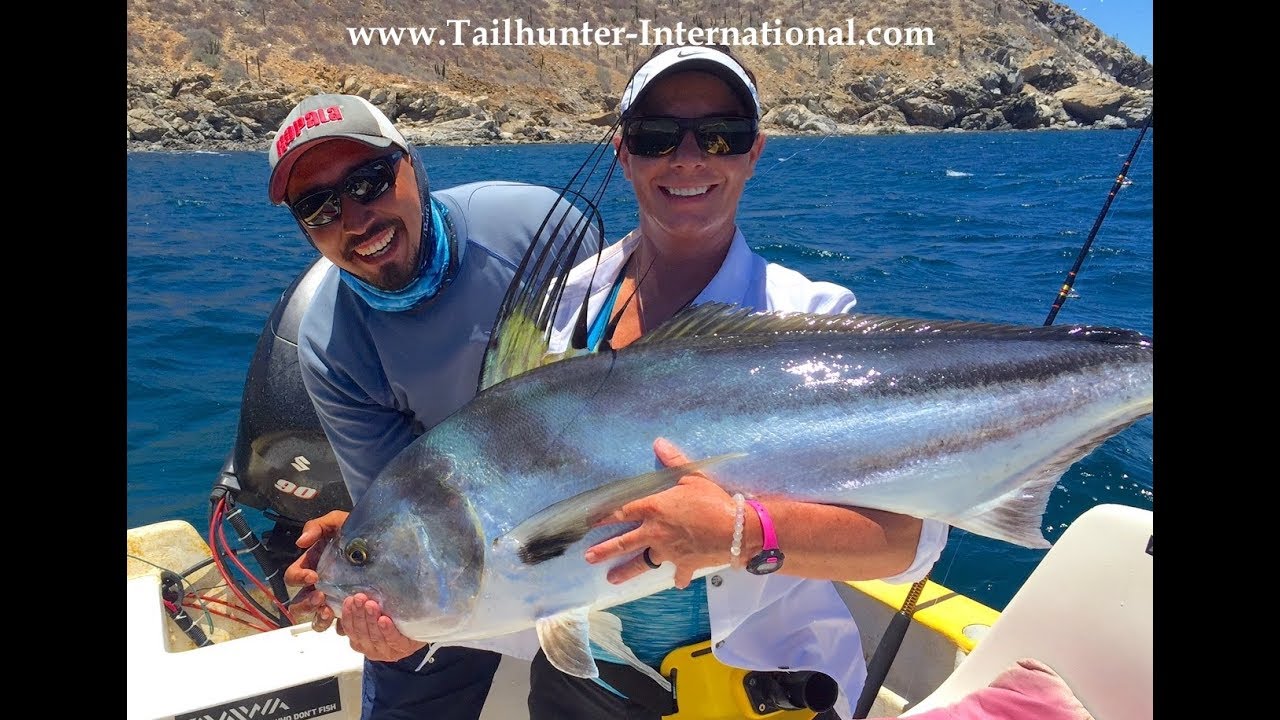 Mexican Minute La Paz
Weekly Video Fishing Report for July 31-Aug. 6 2017,
Tailhunter Sportfishing…Jonathan Roldan, Tailhunter International
Took three of the kids down to La Paz for vacation and fishing. Daughter's first time in Mexico. Fished 4 days out of Baja Pirates of La Paz. Two days on their Grady, Las Arenas Panga, and last day on their 21 CC triumph. First day out of La Paz they found the seaweed and it was good fishing for us and all the boats around us. Daughter caught her first dorado. …Fishin Fool
https://www.bdoutdoors.com/forums/threads/la-paz-fish-report-7-26-8-1.663213/
East Cape

Graham McCulloch showing off this nice yellowfin at hotel Playa Del Sol.
Than you Fishers of Men for another great year at hotel Playa Del Sol! See you again next year!…Van Wormer Resorts
The word of the week was happy … happy anglers, happy boat skippers and happy all over. All this happiness was the result of great fishing, plenty of bait and lots of options to choose from…John Ireland
https://www.bdoutdoors.com/forums/threads/variety-and-volume-sums-it-up.663473/

Wahoo today! We covered at least 50 miles then finally stumbled into this guy about 2 miles from our mooring. We'll take it…Jeff Gammon
Recipe for a Slumpbuster:
1 part Scorpion,
2 parts Rapala.
Mix and troll for 35-40 minutes, or until thoroughly set.
Let cool and enjoy!
Firstly, endless thanks, per usual, to Felipe Valdez and everyone at Hotel Buena Vista for an incredible week, during a tough time. You're like a second family, and a home away from home.
Thank you, Chris Britton, and your fine fellows at Rapala — it takes a damn special lure to put an end to my cold streak!!! Jajaja! Matthew Clifton and Oscar on the Scorpion — I couldn't have had a more fun final day, even without the fish. Thanks for getting me slimy…J David Le Compte
Puerto Los Cabos
Light summer time crowd of anglers enjoyed calmer weather patterns this past week; with no new tropical storms presently forming to the south, it appears conditions will be favorable at least through the latter part of next week. It's hard to predict tropical weather forecast too far in advance this time
of year. Humidity has increased, and August is always a muggy month. The heat is intense, with the combined heat index nearing 110 degrees. Ocean water temperatures are warming daily, up to an average of 87 degrees now … ocean swells are moderate, as no storms are near at this time.
The main target species which have been cooperating are the yellowfin tuna, with action now being found from the Gordo Banks, Cardon, Iman, San Luis to Vinorama. Sizes for the tuna has ranged from 10-to 80-pounds. Most all of this action has been found while drift fishing with various baits, from live and dead sardina, caballito, chunks of skipjack and strips of squid. It is always beneficial to have as many bait options as possible for this style of fishing. Some days these fish were hitting early, other days late, so you also need to know how to ration your bait supplies accordingly. Just in recent days the yellowfin have been more active on the Gordo Banks. This will be a welcome relief for local fleets, which have had to travel as far as Vinorama to find action and then compete with all of the
East Cape fleets that were traveling south to the same grounds. Numbers of tuna were not huge, but many charters were accounting for up to five fish, with many of these in the 40- to 70-pound class … nice quality fish. A bit line shy as well, so using 30- to 50-pound tackle has produced more action, though also many bigger fish have been broke off.
Wahoo and dorado were very sporadic, a scattering of mostly smaller-sized dorado and wahoo which had bit well last week, then tapered way off this week, as they often do, and become more sluggish when the water temperatures reached into the upper 80s. Billfish bite was slow as well, who knows what is up with that. Plenty of sharks in the area; many of the hooked up tuna were being bit into as they neared the boats and from the size of the bite marks, these were not small sharks.
Bottom action was not consistent, but produced a mix of huachinango, amberjack, pompano, bonito and various cabrilla species. Highlight were a few amberjack in the 40- to 50-pound range. These fish were striking more often on yo-yo style jigs, some on whole and cut baits.
Not much inshore fishing action being done now. Some anglers did scout this option out, but did not have much to report … a few roosterfish, jack crevalle and at least one dogtooth snapper…Eric Brictson, Gordo Banks Pangas
Cabo San Lucas

Pisces Sportfishing fleet does it again! Congratulations to anglers and crew aboard the Pisces Tag Team for winning the Dorado category in the Bisbee's East Cape Offshore Fishing Tournament with a 39-pound bull dorado…Pisces Sportfishing Fleet.
The bite from the billfish slowed up a little this past week. But the full moon phase is coming  August 7, 2017, and hopefully an increase in the blue marlin action for that span of time.
Cabo Climate: A mixed sunny and cloudy week with daytime air temps that averaged 86.7 degrees and nights at 78.5 degrees. Humidity ratio averaged 76.7% for the week.
Sea Conditions: Sea surface breezes flowing mostly from the westerly directions at an average of 12.5 mph. Water temps are warming rapidly from the Finger Bank to Cristobal, including the Jaime Bank, all at 81-82 degrees. On a line just below the Jaime Bank, easterly to the Cabrillo Sea Mount and northerly to Los Frailes, are all at 84 to 86 degrees.
Best Fishing Area: The Herradura was the leading area for the production of billfish and wahoo.
Best Bait-Lure: Rigged bait worked best for the billfish and artificials worked best for the wahoo and yellowfin tuna.
Live Bait Supply: The supply of caballito for live bait continues to be readily available at the $3.00 per bait rate paid direct to the bait vendor at time of receipt…Larry Edwards