Editor's Note: Baja sur winds slow spring arrival according to Gary Graham's Baja sportfishing report. A wide variety of fish are being caught from Mexico's hot spots.
Que Pasa
The federal government has started charging again for using their nice road to the airport. It is the custom to give a free pass following a natural disaster, so everyone has been whizzing along for free ever since Tropical Storm Lidia struck us last September. The toll booths have been closed for so long now that we started thinking the Feds forgot us, but alas, that is not the case, or if they did, we suddenly popped up on their radar. Very suddenly, as in one day it's free, and the next day, bam! There they are with their hand outstretched, just like all governments everywhere.
Tijuana Bull Ring
Small rockfish continue to be what most people end up catching in this area. There are a few nice-sized fish, but the majority are under a pound.
Some calico bass are wanting to bite in the kelp if you have anchovy. Without that bait, however, the bite is miserable…fishdope.com
Coronado Islands

The good news, based on Wednesday's early report of quick limits for 9 anglers aboard the San Diego out of Seaforth Landing, is that the yellowtail decided to bite again at the Coronado Islands. According to Captain Ryan Bostian, the fish were biting yo-yo jigs, surface iron and fly-lined sardines. At 6 to 12-pounds, the fish aren't giant but I'd gladly choose fun-sized surface iron biting yellows over rockfish any day… Erik Landesfeind
https://www.bdoutdoors.com/coronado-islands-yellowtail-bite/
295 / 238 / 1140 Finger
This triangle is where the fleet was working for bluefin. Early word had a few boats getting into a few fish in the general area which is 77 miles from Point Loma on a heading of 181 degrees.
Lower 500 south to the Bumps

The water rolled over and turned cold, 59.7-degrees just below the Lower 500. It also turned an ugly green to brown color and gets worse the farther south you go.
As a result this area is not where you want to be when looking for tuna.
It also does not bode well for more tuna to be moving up the coast soon…Fish Dope.com
Ensenada
Great day of fishing…yellowtail, lots of calicos, sand bass, barracuda and rockfish. Muy Bueno!…It's 4-reel Sportfishing
San Quintin
No Baja sportfishing report
Northern Sea of Cortez
Gonzaga

Ample cabrilla, corvina, yellowtail, some of the largest sierra of the season along with wildlife everywhere…Juan Cook
Bahía Asunción

Wrangled up a herd of goats this morning.
Four of this model and two smaller females. Nice tuggers from 180- to 220-feet. They fight all the way! Added a few rockfish for tacos and some whitefish. It must be winter…Ross Zoerhof
Loreto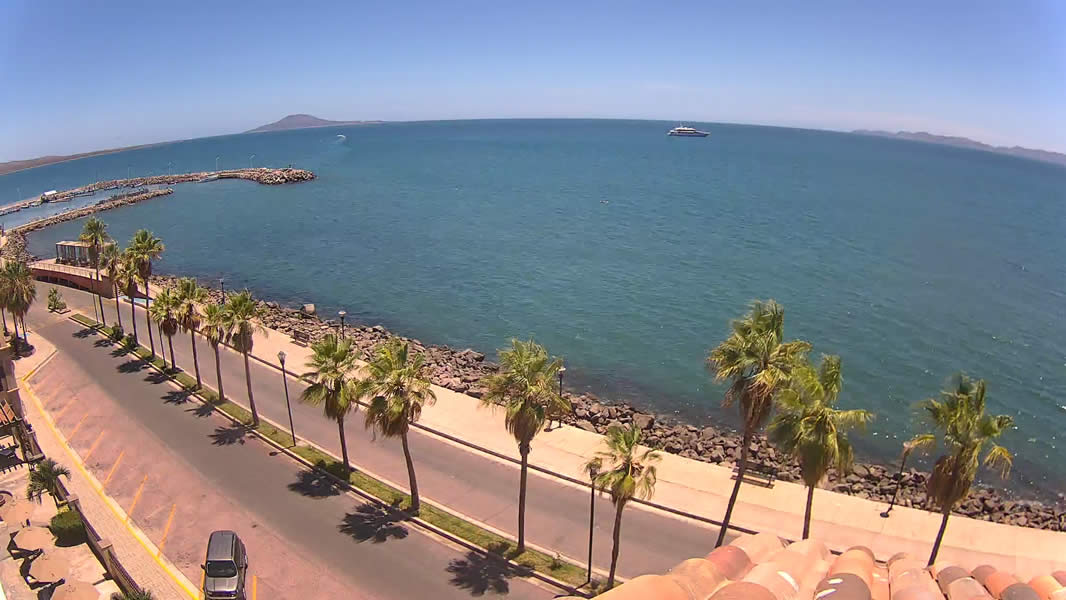 The number of boats hitting the water this week has slacked off with most of the travelers heading back home, school or work.
Results per boat are about the same with the south seeing most of the catching.
Cabrilla are starting to creep up in the fish count but yellowtail between 15 and 25-pounds are the norm.
The best stories from this past week are not coming out of the fishing boats. Seems like everybody has been witness to big fish action. Paddle boarders reported a busy school of huge toro working bait at Punta Coyote. Just around the corner from Puerto Escondido was the scene of the big-shouldered jacks that looked to be "50-pounds each".
A kayak group had a similar yellowtail event that got topped off by a whale finishing off a big chunk of the main sardina attraction!
The best story came from a scuba trip and I might want to title the piece, "How to Make a Fishing Captain Cry!".
Another crazy acre of boiling sardina being worked over by "four-foot-long yellowtail" and there stands our most popular fishing captain, Tony Davis, with absolutely nothing to throw or poke… There was almost a tear in his eye as he could only stand and fumble around for his blood pressure pills!
If all this action is an indicator for the upcoming season, then I think a back brace should be somehow attached to all the rod belts. Stay tuned…Rick Hill, Pinchy Sportfishing
The good news is the Sargasso has started to move in, so we should start seeing dorado soon…Jay Yadon, Outpost Charters
La Paz
Just when we thought it might be mellowing out, those winds came back and hit us again this week.  In fact, one day the northerns were so bad, there were surfable breakers in our normally calm La Paz Bay and the port captain closed the port for any boats leaving.   As one person described it, it's like winter all over the Northern hemisphere being like an angry boyfriend or girlfriend who stomps out've the room then comes back and says, "And One More Thing!!!"  Blah blah blah…
Basically, as long as storms keep showing up in the U.S., it's going to affect Baja sportfishing and the Sea of Cortez!
So, it wasn't the greatest week for Baja sportfishing.
There was some variety, but not much for quantity although some days there was some great action on some pig bonito. Not only good fighters, but these are "white bonito."  (Bonito Diente).  They have teeth, but also have some incredible great white meat for table fare.  Most folks would not be able to tell it from tuna.
In addition, we did have some 15-30-pound yellowfin tuna show up around Cerralvo Island and some larger that were lost after long battles.  But, the issue is getting across the channel to the island.  If there's wind and rollers happening then getting across to the island (and to get sardines) is pretty futile.
But, inshore offered alternatives like several species of pargo including pargo mulatto (barred pargo); pargo liso (mullett snapper); cubera snapper (pargo perro/ dog-tooth snapper) as well as red and yellow snapper (huachinango). We also got some action off cabrilla (seabass) and some decent triggerfish and jack crevalle.
Honestly, however, not the best Baja sportfishing and kudos to our anglers who hung in there and grinned through it all the kept smiling.  But, one reason, not many folks are fishing this early in the season…Jonathan Roldan Tailhunter International
The fishing was more about quality than quantity, but we got some good ones every day, mostly on the yo-yo
— cabrilla, yellowtail, huachinango, amberjack and some tuna, which was pretty cool for April…Greg, Carpinteria, CA
https://www.bdoutdoors.com/forums/threads/las-cruces-cerralvo-3-31-4-7.682041/
East Cape

Palmas De Cortez Apr 5-9 Tuna Galore…Van Wormer Resorts
https://www.bdoutdoors.com/forums/threads/palmas-de-cortez-apr-5-9-tuna-galore.681990/
We had a good week of tuna fishing as well as some marlin and dorado action! The Baja sportfishing season is already in full swing on the East Cape…El Regalo Sportfishing
What goes up …It was a mixed bag this week. Good fishing, but down a click or two from the past couple of hot weeks.
https://www.bdoutdoors.com/forums/threads/what-goes-up-%E2%80%A6.682354/
Puerto Los Cabos
My friend and I skipped our Florida lobster season trip this year and decided to head to
Cabo for a tuna fishing trip. When we got there the tuna were biting at Iman and Gordo Banks but not out of Cabo San Lucas where we were staying, so we opted to rent a car and drive to San Jose del Cabo and fish the pangas fleet…Eric Dulin, McKinney, TX
https://www.bdoutdoors.com/forums/threads/san-jose-del-cabo-fishing-4-15-20.681825/#post-4549735
Visitors were greeted by cooler weather patterns, which started with winds switching from out of the south last Sunday, continuing through the first part of the week. This pushed in cold Pacific currents which turned over the ocean as far north as Los Frailes, turning the water green-colored and dropping water temperatures into the 67-degree range. Of course, this did not help the surface fishing action much at all, basically shutting down the tuna and marlin bite. However, the all-around climate was nice, lows of about 60-degrees and highs up to 80-degrees — typical spring-time conditions during this transition period.
Anglers found that sardina were scattered as well; some of the clear type of sardina which are used for dead bait, also some rigged ballyhoo, and a few caballito. The best action found was for shallow-structure species, using various bait, as well as more fish starting to strike on yo-yo jigs, particularly the bonito and leopard grouper, a few amberjack and yellowtail.
Last Sunday the yellowfin in the 30- to 60-pound class were taken north of Vinorama with a few caught on Monday as well. Since then the cold green water has shut this action down and now we are waiting patiently for the conditions to rebound. In the meantime, the best bet has been to concentrate on bottom species over the various rock piles. The red crab also were less active, but the fish were starting to strike the yo-yo jigs — several yellowtail up to 30-pounds, a handful of amberjack, along with a variety of snapper and pargo and quite a few leopard grouper in the 5- to 18-pound range.
Along the shoreline there was spotty action for sierra, jack crevalle and an occasional roosterfish, but if you were at the right place at the right time there were some nice fish.
Billfish, dorado, wahoo were not in the picture at all, with the exception of a few striped marlin and dorado early in the week before conditions completely changed…Eric Brictson, Gordo Banks Pangas
Cabo San Lucas
We were slow-trolling bait, and I was driving. He starts casting lures off the front. I thought it was super cool to see someone who fishes all the time, wanting more. We caught 7 or 8 Colorado Snapper…Matt, Los Angeles
https://www.bdoutdoors.com/forums/threads/cabo-san-lucas-4-2-thru-4-7.681892/
Baja sportfishing
Numbers at a glance: Billfish 24%, Tuna 47%, Dorado 6%, other 21%.
This week, the wind continued to blow closer to shore, more so on the Pacific side, which forced some boats offshore in search of tuna and others for marlin. The marlin numbers are still there, mostly found at Golden Gate, but withering, compared to previous weeks. There is now a more definite distinction of which fish anglers need to target to ensure they are successful. Small game numbers have gone down, due to the amount of tuna that have showed up and because the wind is closer in.
The yellowfin showed up in big numbers. Fewer anglers hit the water but those who did were rewarded with good results. The overall fish reports included marlin, yellowfin tuna and three dorado; the near-shore fishing was a mix of bonito, barrilete, sierra, and red snapper.
The fleet produced most of their marlin early in the week and once the yellowfin showed up in big numbers, most of the boats were running out to the Herradura for daily limits for many of their anglers.
Cabo Climate: More great Baja sportfishing weather with mostly sunny skies; average daytime
temps in the upper 70s and evenings in the mid-60s. More great weather expected through the end of the month with daytime temperatures in the upper 70s and no precipitation predicted over the next 2 weeks. Winds are expected in the 10- to 12-mph range through the end of the month. Humidity has been relatively low but expect an increase into the upper 60% to 70% range by the end of the month.
Sea Conditions: Relatively calm seas throughout the area with some surface chop
occasionally stirred up by surface breezes at 10- to 12-mph mostly out of the SSW. Forecast is for more of the same with winds in the 8- to 12-mph range out of the West and WSW. Sea temps around the Golden Gate and Jamie Banks steadily cooling into the 68- to 70-degree range. Water around Cabo Falso east to the Gorda Banks is warmer in the 71- to 73-degree range.
Best Fishing Areas for Baja Sportfishing: El Faro, Palmilla, and the 95 Spot all produced marlin over the weekend. Early in the week, everyone was headed to the Herradura to cash in on the large schools of yellowfin that showed up this week.
Best Bait & Lures: Live bait tossed to surface fish seemed to be the ticket for the marlin. Feathers and cedar plugs were the ticket for the yellowfin.
Bait Supply: Plenty of bait available at the $3.00 per bait upon exit from the harbor.