Que Pasa

To eliminate delays, arriving passengers to Mexio's sportfishing hotspots can now proceed straight to one of the new kiosks that have been installed supplementing the Immigration Officials at the airport in Cabo San Lucas.
Officials estimate it will speed the arriving passengers through the immigration process by as much as 50%. Member information is stored in a database. When members enter the country through a participating airport, they scan their machine-readable passports and fingerprints at a kiosk, complete a customs declaration form, and proceed to the baggage claim area.
It appears that the kiosks are similar to the ones used in the U.S.
Baja Bytes Sportfishing Hotspots Round Up
Tijuana Bull Ring
Still slow fishing for surface fish. Outside the kelp line there are some mixed brown and red rockfish, some sculpin and whitefish. A lot of the rockfish are those little ones like square spots and baby reds…fishdope.com
Coronado Islands
There are some yellowtail around the usual sportfishing hotspots, but they just don't want to bite very well. Seems they bite best when the water is calm and not when the seas are rough.  Some yellows can be found on sonar marks in the North Island area along the weather side of the Island.  The other area with the best volume of fish is the flats just above and below the Rock Pile.
These are also sonar fish. None are up on the surface.
If you find a working bird school, it likely has some very large bonito on it. These are all running from about 8 to 12-pounds.
In tight to the Islands, the calico bass fishing is good. See the email report below.
Report from Chad Gierlich at Hookup Baits:

Started at middle grounds and fished our way down to the south tip of South Island … fishing in tight for bass. The bite was good with most in the 2- to 4-pound range with the largest 6+ pounds on red crab Hookup Bait.
We then moved down below South Kelp in 90- to 150-feet of water for a good bite on sheepshead and quality reds. The double-rigged 1.5-oz. Hookup bait was bit instantly every time it went down.
We also caught some very large bonito in this area…fishdope.com
Bluefin
There were three boats out Saturday that located the bluefin which finally bit late in the day. The tuna were in the 25- to 35-pound range with a few in the 40- to 60-pound range caught.
The tuna were in two general areas: One was in the 295/238 area around a bubble of 63.5-degree water centered in a 4- to 5-mile block. The other area was near the Lower 500 also in a 4-5-mile square.
The weather was rough and sloppy early but it did lay down as the day went along. Both boats reported seeing spots of bluefin throughout that day. However, the bites didn't come until late in the day.
Farther down in the Bumps/Tuna Hole zone, the weather was even worse. We do not believe any sport boats made it down that far. The tuna seiners that were working at 145 to 150 miles are said to have moved south to around 165 to 175 miles.
Great trip on the Top Gun 80; found a batch of fish that wanted to bite but found many
that didn't want to. Still a good sign due to the fact these fish were 65 to 80 miles down. I managed to catch the one 30-pound fish in a school of 55- to 100-pound fish, three-way tie for the jackpot at 69.4 pounds … funny.
And one guy on a pig for 2 hours only to have the hook pull at gaff – estimated to weigh 150-pounds.
Lots of lost fish, really do not reflect in our total…Report from Scott Hennessy on the Top Gun 80:
Report from Old Glory Sportfishing:
"Good morning everyone. The Old Glory returned recently from a day and half trip with 14 bluefin (20- to 60-pounds) and 8 yellowtail.
The weather was a bit sloppy for most of the day but got nicer as the day went on. Covered a lot of ocean and we were able to stumble upon a school of bluefin that wanted to bite at the end of our day. A LOT of casualties but we were able to boat 14 of these bad boys. Average size was in the 40- to 50-pound range. Heading back out this coming up weekend to hunt for these tuna once again. We have put a 'for sure' go with only four reservations! We recommend bringing your 25- to 60-pound set ups. Hope to see you there!
Ensenada

Barracuda are still being found at the north end of Todos Santos Island. They are working spots of anchovy and at times have birds on them. Some yellowtail are mixed in.
Surface iron is working well for these fish.
More yellows are being found on sonar just to the north of the San Miguel Reef High Spot. These fish are 100% yo-yo iron fish in 180- to 250-feet of water…Fish Dope.com
San Quintin
Baja fishing this morning was insane!!!
Had this spot to myself and this is my 8th grouper today, all on the hardbait chunk 'n wind. Violent! Explosive drag! Smoking!! Hookups!!!…Captain Kelly Catian
Northern Sea of Cortez

San Felipe people set up tents on the street's side walk and every square foot of sand for the weekend! Wonder how the full moon tide went?
Gonzaga


A few days back out fishing with 'Grouper John' Fitzgerald, formerly known as "Rockodilejohn." Fished with John Anthony Hayward and Terry Cline; we were out grouper fishing on this awesome day...Captain Juan Cook
Bahía Asunción

All the usual winter suspects going on now … blanco's, viejas, rock fish. Haven't had a whiff of a yellowtail in three weeks. Still trying when the wind allows…Ross Zoerhof
Loreto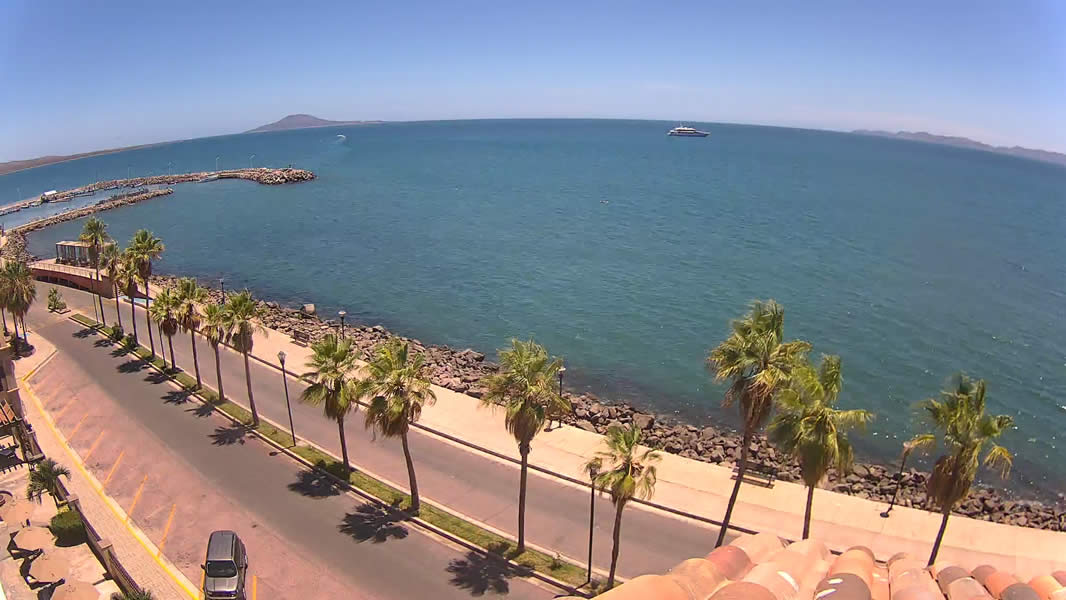 We fished the north end of Catalan both days. It was a two-hour boat ride both ways but well worth it. Temp. was 80-degrees both days and the wind never got above 8-mph which made for a smooth, full throttle, no spill my Pacifico, boat ride.
Wednesday we fished the same area; this time it was just Pancho and I. I had to be back early and we only had three hours to fish, but we made the best of it. Again, we went 7-7 this time on 35- to 40-pound yellows. I had four and landed my PB 40-pound yellowtail. We fished from 8-11am and had the best three hours of fishing I've ever had in Loreto… Fishn' Frank
https://www.bdoutdoors.com/forums/threads/loreto-fishing-4-2-4-4-pb-yt.681589/
The spring yellowtail bite is starting to get interesting for Baja's sportfishing hotspots.
This past week some of the close in spots were we normally see good yellowtail catches kicked out limits for many of the boats.
It's normal to see the sudden appearance of fish in seemingly empty spots as the winter water changes.
With the Easter holiday happening many more boats were out testing the water and good luck put many boats onto the closer-to-town spots.
From Coronado's southeast corner, a.k.a. La Lagrimas, across, traveling south to Carmen's La Cholla area, yellowtail fell victim.
In the previous weeks we have seen good bites only off Catalana Island at our southern reaches but not much else.
Live bait has been the key with fish averaging 14 to 18-pounds. The bigger fish fell to bigger bait and for the other boats their firecracker trick was trolled jointed plugs.
The few boats that searched north of Coronado Island had very limited results. All the way north to Pulpito there were only a handful of cabrilla caught.
Not every season has "wide open action" but it's nice to see the good fishing is not a gamble and a long ride!
The sardina festival is still happening with birds, dolphin and even the few remaining humpback whales crashing and thrashing into the many schools…Rick Hill, Pinchy Sportfishing
La Paz

Mexican Minute La Paz Fishing Report from Tailhunter Sportfishing for Week of April 1-8, 2018
East Cape
We had a good week of tuna fishing as well as some marlin and dorado action too!
Fishing season is already in full swing on the East Cape…Matthew Clifton. Scorpion Sportfishing
Good Times! Aileen and Rex Plamann fishing with Nestor and David on the Suzy T.
"We loved our week at your resort. A fantastic highlight was fishing on the Suzy T with Nestor and David. What a great team they made for our fishing success!" Nice dorado and quite a few football-size tuna! Way to go guys…Van Wormer Resorts
Puerto Los Cabos
Most local charters have been fishing sportfishing hotspots from La Fortuna, Iman Bank towards Vinorama. Supplies of sardina have become more scattered; these do not stay alive well, but do work, even dead, for the yellowfin tuna and other species. In recent days the yellowfin tuna action has been very spotty around the Iman Bank. The tuna were seen breezing and feeding on the surface, but are finicky. The few yellowfin that were actually landed weighed in the 25- to 50-pound class. Recently, some boats heading farther north, past Vinorama, were finding more cooperative tuna.
Dorado were also much scarcer, though a couple of fish in the 20-pound range, were caught. Water temperature averaged about 73-degrees with clarity up and down and very strong currents moving through.
Striped marlin are still being found farther offshore searching for their favored food source. Rigged ballyhoo, lures and skipjack were being used with varying results.
Perhaps the highlight of the week was the pelagic red crab making a strong showing locally — from the Gordo Banks to Iman Bank. Appearing on the surface in masses and being scooped up, then in turn being used for baiting up the red snapper, locally referred to as huachinango; these are prized eating, the true Pacific red snapper, ranging in sizes up to 12-pounds — a challenge on light tackle. Because it is a very popular and valued commercial species, everyone is out in force taking advantage of this event while it continues as it can end on any given day.
Other bottom action has included a mix of amberjack, leopard grouper, yellow snapper, barred pargo, surgeon fish, bonito and triggerfish. This action was found on yo-yo jigs and drift-fishing with bait. Strong currents made this type of fishing challenging but will be much improved when these swift currents slack up.
Inshore action has been limited — not many sierra and a few mostly smaller-sized roosterfish. No sign of the annual migration of mullet yet … still a little early in the season…Eric Brictson, Gordo Banks Pangas
Cabo San Lucas
Numbers at a glance: billfish 29%, tuna 37%, dorado 8.5%, and other 32%.
Recently the wind picked up causing some south swell, but the fleet still managed to produce; yellowfin tuna was the top catch and those looking for marlin found numerous fish as well. Small game catches included many different species per boat, but the most impressive catch recently was aboard the Pisces Valerie, which landed one of our rarest finds … a very nice-sized golden grouper.
Cabo Climate: More great fishing weather with mostly sunny skies; average daytime temps in the upper 70s and evenings in the mid-60s. No precipitation predicted over the next two weeks. Humidity has been relatively low but expect an increase into the upper 70% range by the middle of the month.
Sea Conditions: Relatively calm seas throughout the area with some surface chop
occasionally stirred up by surface breezes at 10- to 12mph mostly out of the SSW. Forecast is for more of the same with winds in the 8- to 14mph range out of the West and SW. Sea temps around the Golden Gate and Jamie Banks steadily cooling into the lower 70s. Water around Cabo Falso east to the Gorda Banks is warmer in the 72- to 74-degree range.
Best Fishing Areas: Much of the prime fishing has shifted around the point and to the east. The 1150 Spot and the 95 Spot produced well. Punta Gorda produced marlin late in the week. Roosterfish were found off Palmilla. Pozo Cata and El Faro produced lots of barrilete. The longer run to the Golden Gate was well worth it with a high marlin count.
Best Bait & Lures: Trolled lures and rigged and live bait – especially if green mackerel – tossed to surface fish seemed to be the ticket for marlin over the sea mounts.
Bait Supply: Plenty of bait available at the $3.00 per bait rate upon exit from the harbor.