Que Pasa

The WON Tuna Tournament kicks off on Wednesday November 1 – 4 in Cabo San Lucas with registration followed by two action-packed days of searching for the largest yellowfin tuna plus a gamefish division for dorado and wahoo.
In 1999, at its beginning, the event drew 112 teams. Now, 19 years later, the WON Los Cabos Tuna Jackpot is going stronger than ever, and is now the biggest, richest tuna tournament in the world.
"One thing teams can count on when they come to Cabo for the Tuna Jackpot is winning prizes and having a great time," Pat McDonell Tournament Director confirmed. "After all, our motto is 'Fish Hard, Party Harder."
McDonell continued, "And if they get lucky, they have a bit of skill and their captains do, too, they can score BIG!"
At press time the total number of teams has reached 129 according to their website and they expected to climb by Thursday, November 2 at the Costa Shotgun start at 7 a.m. at the Cabo Arch.
Baja Norte
Coronado Islands
Bluefin are becoming very hard to come by. It has been slow with just a few taken by sitting on the anchor and running chum lines for hours down at the Rock Pile. Bonito and yellowtail remain scattered all over the Islands and on the Flats just above the Ridge in the Middle Grounds.
North Island along the weather side is loaded with bonito and there are yellows mixed in with them. The bonito are mixed in size; they range from 2-to 12-pounds to pick through, while the yellows are pretty much all under 10 pounds with the average under 6 pounds.
Trolling Rapalas is an ideal way to locate the schools and once found they will come to the boat and chew on the sardine. The Colt Sniper is hot also, if you would rather not deal with bait…fishdope.com
425 / Coronado Canyon 238 / 450 / 1140 Finger / Lower 500
This is the best area to score some numbers of yellowfin, although it is far from being a slam dunk. It is all about finding the right kelp but once found then the odds of making a big score go way up. These kelp are also holding rat yellowtail and some have a few dorado still. Jig stops are primarily on skipjack but they are turning into yellowfin sometimes so it's still a good idea to keep the jigs out.
The current is racing downhill, which means the kelp are rolling downhill and dragging the fish with them…fishdope.com
Ensenada

Today the Reel Adventure reported 5 dorado and 7 yellowfin tuna at the Lower 500 on a paddy…Marina Coral Store
San Quintin

It's that time of year when bottom fishing begins to be the best option…Captain Kelly Catian
Cedros Island
No Report
Bahia de los Angeles
Just got back from a trip to the Bay. The road was in pretty good shape, the best I have seen Mex 1 in over a year or better. We took the dirt road back home and the the 21 miles are about the same. The weather was a bit windy in the afternoons. Right in front of the ramp and just outside the bay, we fished the yellows and some grouper. The wind was rough and we were blown out by about 10 a.m each day.
Good trip even with the wind!…Rich
https://www.bdoutdoors.com/forums/threads/back-from-bola.670263/
Bahia Asunción


It has been super-hot which brought the surface ocean temp up to 81 degrees in some spots and which has the tuna all excited. It's not wide open but there are lots of schools of dolphin with tuna chasing them. Rossman caught his first wahoo of the season…Shari & Juan Arce
https://www.bdoutdoors.com/forums/threads/bahia-asuncion-fishing-report-end-of-october.670303/
Loreto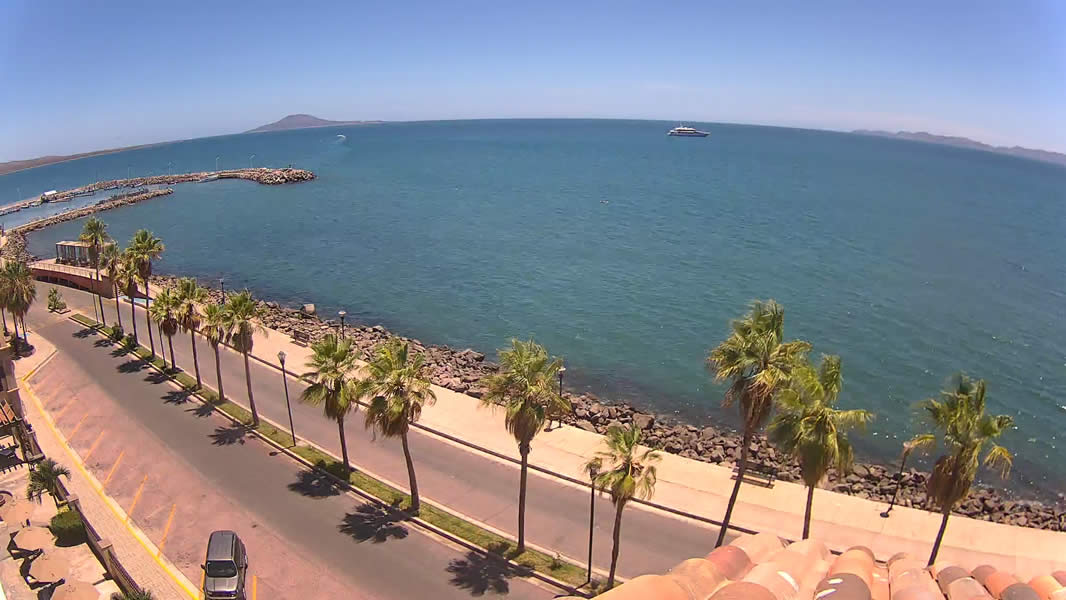 Up this way we seem to be in the middle of basic subsistence fishing in order to stock up for this week's fiestas!
Halloween followed by two "Days of the Dead" make a long weekend that begins on Wednesday.
Reds, pintos, pargo cabrilla and triggerfish are all the current visitors and every local kitchen that I know welcomes them with open arms.
Yellowtail have been showing out at the 50 Spot off Lobo but no consistent action. Half the fish are firecrackers with a few larger, 25-pound class yellows mixed in.
Wahoo action out at the far island has petered out. This time of the year there are always some wahoo catches but their numbers usually indicates more of a scouting party than a serious visit.
Warm water has stuck around, and the north winds have yet to arrive.
It's a beautiful time of the year in Baja…Rick Hill, Pinchy Sportfishing
If you want to go on a fishing trip, hit up my boy; Jay promises you will not be disappointed! A 350-pound blue marlin? Somewhere out of Loreto Baja Sur… Brent Underhill
Magdalena Bay

Captain Peter Groesbeck reported that the striped marlin are doing their thing at Magdalena offshore and as the news reverberated up and down the Baja Coast, boats from Cabo and Southern Cal are steaming for the banks.
La Paz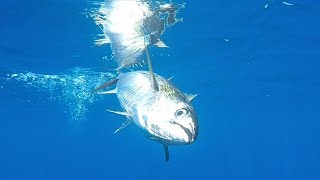 Mexican Minute La Paz Fishing Report from Tailhunter Sportfishing Week of Oct. 22-29, 2017
East Cape

Lots of fun during 2017 Tuna Shoot Out! A tournament record of 53 teams participated in this year's TSO! The winning tuna was landed by Dustin Stumpf onboard the Mi Pistola with Capt. Danny Marron and deckhand Raul Marron!
The winning yellowfin weighed in at 81.3 pounds and it took over an hour to land. The winning team took home $18,000 and a lot of fresh tuna…Van Wormer Resort
Some nice roosters are making an appearance as the water clears up inshore. Jack crevalle are plentiful along the beach. Fly-rodders beware: Bring a 10-weight at the very minimum. Some of these roosters and jacks are bruisers!…John Ireland
https://www.bdoutdoors.com/forums/threads/the-tuna-jackpot-produced-a-81-pound-fish.670491/
Puerto Los Cabos
Swirling winds from the north finally resided late in the week, with prevailing clear sunny skies and warmer than normal high temperatures all made for ideal conditions, actually making it feel almost like summer.
Boats were fishing areas from the Hyatt, Cabeza Ballena, Los Arcos to El Faro around the corner on the Pacific. The main target species have been the yellowfin tuna and drift fishing with sardina has been the most productive technique. The tuna were seen in flurries, with catches ranging from zero up to ten fish per boat, depending on where you happened to be at a given time; lots of black skipjack were mixed in with the yellowfin tuna. Average size of the tuna was from 5 to 10 pounds though other larger fish were mixed in.
The largest yellowfin tuna for the week was taken Friday off the Outer Gordo Banks, where angler Bob Deeter hooked into the cow tuna while trolling a live chihuil; after a crazy surface battle, the fish actually died and was subdued in relatively easier than normal manner. Back at the docks the yellowfin weighed in at 304-pounds.
Dorado have been very scarce early in the week off of San Jose del Cabo grounds. Better chances were found trolling in Pacific waters, though later in the week we saw more dorado showing up, still not in significant numbers, but at least somewhat encouraging. Sizes ranged up to 15-pounds.
Many boats reported having six or more chances of wahoo strikes, most on baitfish such as chihuil or caballito. Other reported strikes were on skirted lead heads and Rapalas.
Several charters had two or three wahoo in the box, and at least one had four. Sizes were not huge, but they averaged about 20 to 25 pounds.
Bottom action was limited. One 60-pound amberjack was caught, but only sporadic catches of snapper, cabrilla and triggerfish were reported.
Billfish was spread out, but the tournaments have found a respectable number of qualifying black and blue marlin meeting the 300-pound minimal weight limits. Not many striped marlin now; the water is too warm for them, with temperatures averaging in the 84 to 85 degree range now…Eric Brictson, Gordo Banks Pangas
Cabo San Lucas

Large crowds of anglers and visitors alike are arriving in Los Cabos, as we are now in the middle of the peak fall season. This past week the huge story was the Bisbee Black and Blue Tournament, which is the highest paying fishing tournament in the world. This year's event attracted 120 teams with over 800 participants from across the globe.
https://www.bdoutdoors.com/bisbee-black-blue-tournament-winners/
Cabo Climate: Daytime air temps averaged 88.8 degrees and nights at 74.8 degrees. Humidity ratio averaged 56.8% for the week. It was a mostly sunny and warm week with clear days and calm seas.
Sea Conditions: Cabo's Pacific side from Finger Bank started at 84 degrees. The Golden Gate Bank and southerly to the Jaime Bank all were around 89.5 degrees. Inshore, Todo Santos to Cristobal and out about 7 or 8 miles, were all at 87 to 88 degrees. Cabo Falso and out to the 95 Fathom Spot and northerly to the 1150 Fathom Spot and even northerly to the Outer Gorda Banks, all at 87 to 88 degrees. Surface breezes flowing mostly from the southwesterly to southeasterly directions at an average of 10 mph.
Best Fishing Area: Several areas continued to be in the "Hot Spot" zones and included Los Arcos to Cabo Falso, Jaime Bank, Herradura, Migrino and Pozo de Cota. Dorado were taken all along the coastal areas, mostly along the Pacific side of Cabo.
Best Bait-Lures: Rigged bait were working well for the sailfish and the marlin as were the bigger artificials for the bigger marlin. Dorado and yellowfin tuna were taken on live bait, rigged bait, and a variety of artificials  and colors.
Bait Supply: The bait supply continues to be excellent and readily available for the boats and so far, remains at the $3.00 per bait rate…Larry Edwards, Cortez Charters