Que Pasa

"The bottlenose dolphins trained by the U.S. Navy to find the Vaquita and herd them to a safe, contained area where they will hopefully reproduce. Nobody knows if this will work but it seems to be the only option at this point. How they are trained? I have no idea. Do I agree with this? I have no idea. I do know that it is impossible to control a secure area in the gulf … there is just too much corruption and the cartels are involved in the totoaba poaching."… Anthony Motshagen
https://www.bdoutdoors.com/forums/threads/dolphin-plane-arrives-san-filipe.668893/
Baja Norte
Coronado Islands
There are still some bonito cruising around the Middle Grounds, but as always, the sea lions are pretty terrible. Your best bet is probably to troll small Rapalas or Halcos, because any time you shut down or slow troll you can expect to have a little wolf pack of sea lions stealing bait and chum right off your stern. The water is still very nice and clean all around the Islands at least…fishdope.com
302 / 371
Lots of empty water through here, but there was a kelp paddy that kicked out a couple of yellowfin this morning.
There was also a little bite of yellowfin early afternoon, but overall the bite was pretty slow through here again…fishdope.com
South to Southwest of the Coronado Islands / 425 / 101
The bite is a little more miss than hit this morning, and the south wind conditions surely aren't helping things. On top of that, some of the better yellowfin scores are now coming from a little farther south between the Upper Hidden Bank and 475 Knuckle.
Pretty tough , both for fishing and weather. The wind blew out of the south most of the morning with only a brief lull early in the day, and the swell and chop made for some very sloppy seas making it tough to spot either kelp or birds…fishdope.com
Ensenada
We ended up with ten dorado between 18 and 25-pounds. Excellent conditions for us. Thanks to the boat Tuna Breaker for calling us into a kelp paddy that was loaded with big dorado. We were 38 miles out and it was getting late so we had to leave them biting only to find another kelp that was loaded only 7 miles from Isla Todos Santos…Captain Louie Prieto
Upper Hidden Bank / Hidden Bank / 475 Knuckle
There are some big kelp down in this zone, too, and they are kicking out some of the better yellowfin scores along with good numbers of dorado. The main zone extends roughly five miles above and below the 32 00 latitude line…fishdope.com
238 / Inner Banks
Once again there are some yellowfin biting down here, along with some dorado and an occasional yellowtail on kelp paddies. The yellowfin are on kelp but also keep an eye out for spots of fish under birds and on dolphins. The activity is in the clean water to the west of a color break outside Punta Banda…fishdope.com
San Quintin

White seabass and yellowtail for Kevin Flindt and buddy with Capt. George Catian. The guys had another larger fish on but it pulled off on one of the many runs it made…K&M Sportfishing
Cedros
Island
As the early 2017 season has gotten underway, all the operations at the Island are reporting not only some of the best yellowtail (up to 34-pounds) in the past three years on yo-yo iron and dropper loop mackerel, but the fishing has been further enhanced by a consistent calico bass bite on plastics and flat-fall style jigs in 20- to 40-feet of water.
Bahia de los Angeles

Good news for Baja travelers: They are repaving the bad section of road a few miles south of the Bahia de los Angeles turn off. We hope they do more as the road from Catavina to the turn off is in so-so shape; we traveled it without a problem BUT it could use a helping hand.


Fishing in Bahia de los Angeles with part of the Decoursy clan, Jimmy, Lou and Tony, had a nice ride here pulling the Parker. Fished the first day – it was nice in the morning and windy in the afternoon; Cousin Lou caught his first-ever yellowtail followed by a small seabass. After that we crossed the Canal de las Ballinas and cast for leopard grouper; ended the day with ten fish to 12 pounds … it was a rough crossing on our way home. Plenty of fall fish here and good bait to be had…Captain Juan Cook
Bahia Asunción
Back in the States after another road trip w/ kayaks to Asunción. We stayed at Shari's /Juan's, La Bufadora Inn, as our home base as we fished north and south.
Once again, Shari made our trip memorable with great intel and incredible accommodations! Breakfast, plus coffee was always on the table as we got ready for the day; lunch was always packed and margarita/sashimi was ready after a long day fishing.
Yellowtail fishing was excellent on the tidal swings in about 80- to 100-feet of water on the yo-yo. Blue/white appeared to be what they were looking for as 20- to 40-pound fish crashed them with a vengeance.
Calico fishing was once again off the hook at San Roque Island (smaller grade fish in the 2- to 4-pound range). Great little town with awesome people. Counting down the days until next year…Joe, Simi Valley
https://www.bdoutdoors.com/forums/threads/bahia-asunci%C3%B3n-9-18-17.668601/
Loreto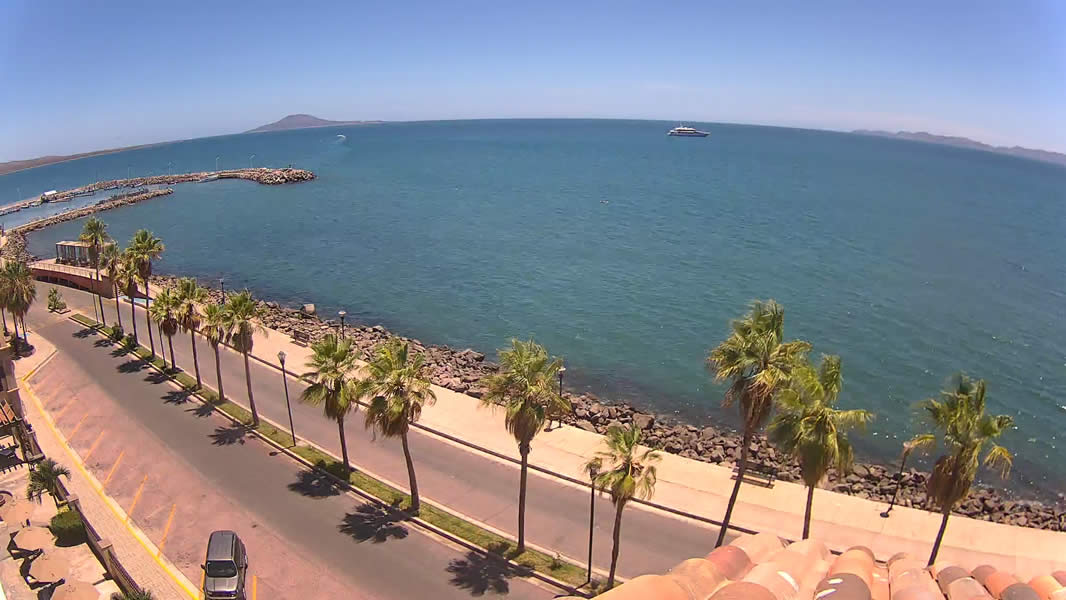 The hot weather returned and brought back some of our afternoon southern winds.
Temperatures back in the mid-90s with wind to 15 knots returning some afternoons.
Fishing has been consistent most of the week with most boats heading out to the Punta Lobo and "50" Spot.
Some dorado are hitting feathers in the same general area but most of the action is on bottom dwellers.
Some 25- to 30-pound yellows are being landed and our sportfishing clients are losing two out of three of the heavy hook-ups! Lots of fat pinto bass along the same spots as
the yellows and some cabrilla
and pargo continue to hit trolled hard bait.
Water is "fantastic" (so the divers exclaim) but I could do with a fillet or two!
Captain Tony Davis brought in a mixed bag with the two biggest being a dorado and a yellowtail … some fat pintos made up the rest of the limits…Rick Hill, Pinchy Sportfishing
Magdalena Bay

https://www.bdoutdoors.com/forums/threads/nice-day-at-the-thetis.668799/#post-4439172
La Paz
Tailhunter International, La Paz, Mexico, Weekly Video Fishing Report Oct 1 – 8, 2017
East Cape

Great day on the water … triple hookup on WAHOO! This is three of a total of five caught on board the MARLIN MAGIC! Congrats to anglers Joey Kris, Wyatt & Eli Kris!!— Van Wormer Resorts.


It's hard to imagine that the fishing could be any better. Countless guests have remarked that this has been their best trip ever. One day we'll look back on 2017 as "the good old days"…John Ireland
https://www.bdoutdoors.com/forums/threads/what-more-can-be-said.668948/
Puerto Los Cabos
The Baja landscape has definitely transformed to lush green foliage. We are now seeing
growing numbers of tourists and visiting anglers arriving in Los Cabos, as the fall tournament season is just beginning and it will soon be crazy busy.
Water: 82 to 85-degree range.
The majority of the fleets based out of Puerto Los Cabos Marina are now fishing the grounds from the Gordo Banks to Iman, San Luis and Vinorama. Bait options remain sardina, caballito and slabs of squid.
Best fishing recently was for yellowfin tuna, drift fishing with various bait was the main technique and average size yellowfin was in the 6- to 15-pound class, though these same grounds have produced larger tuna in the 30- to 100-pound range. No big numbers of the larger grade tuna, just a few mixed in with the smaller fish, though there is definitely a chance at hooking into a bigger fish. All around the numbers of fish caught increased recently.
Dorado continued to be scarce, most fish were under 10-pounds with only an occasional larger one in the mix. A few more wahoo are starting to be seen, most of these are coming from the San Luis Bank area and are striking on Rapalas. Sizes ranged from 20 to 35-pounds.
Minimal bottom action going on with an occasional red snapper, pargo, amberjack, leopard grouper or triggerfish. Not a lot of billfish action going on, however, there were a few black marlin landed this past week, and other blues and blacks were seen chasing hooked tuna; so even though these billfish are not being found in big numbers, they were in the area…Eric Brictson, Gordo Banks Pangas
https://www.bdoutdoors.com/forums/threads/chickens-chickens-chickens-sdj-gordo-banks-9-23-9-24.668347/
Cabo San Lucas


The dorado catches continue to be the mainstay of the surface action for the fleets and still a few wahoo and yellowfin tuna are available for the anglers
Sluggish billfish with a few blue marlin and stripers released…Gricelda Smokehouse
Cabo Climate: It has been mostly a partly cloudy week with daytime temps averaging 88.5 degrees and nights at 77.7. The humidity ratio is up a bit and averaged 70% for the week.
Sea Conditions: Water temps from the Finger Bank and southerly to the Jaime Bank were all at the 82.5- to 84.5-degree averages. Cabo Falso and southerly to the 1000 fathom curve and then north easterly to Los Frailes was all in the 84.5- to 85.5-degree range. Sea surface breezes flowing in mostly from the westerly and south westerly directions averaged 10.1 mph and all was fishable.
Best Fishing Area: The Herradura and Pozo de Cota produced the two blue marlin but El Faro, (aka Cabo Falso) was a busy catch area, too.
Best Bait-Lures: The blue marlin bit best on the artificials but the stripers bit best on rigged bait. Dorado and yellowfin tuna bit best on a variety of different colored tuna feathers and diving type lures.
Bait Supply: The live bait supply remains very good at the $3.00 per bait rate…Larry Edwards, Cortez Charters