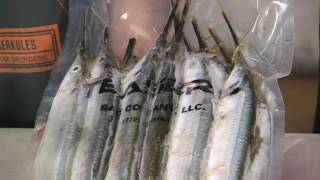 Bait Selection Tips
Fly Navarro kicks off his How To video debut on BD with valuable advice on how to pick out the best frozen bait when your standing at the bait shop freezer.
Nothing is more frustrating than buying a bad pack of bait.
Whether you're picking out frozen ballyhoo, mullet, spanish mackerel or others, avoiding the "once thawed, twice frozen" pack will go along way towards improving your day of fishing.  Broken bills and red juice are just a few tip offs to let you know a pack of bait is not for you.  Fly Navarro visits Tyler Beckford's Teaser Bait Company to get helpful bait tips right from the pros who deal with bait everyday.
Fly Navarro will take us to the "Fly Zone" with his vast knowledge and list of fishing connections.  Visit his site or Facebook to learn more or ask Fly a question.