There is a dangerous stretch of road under construction on Mex 1 north of Jesus y Maria. Usually once the road crews begin construction, the work is completed in record time. However, during the past several months, the work on that stretch of the road has come to an apparent standstill. The link below explains what happened on this section.
Hwy 1 construction
Baja Norte
Ensenada
Home guard yellows don't mind a little stinking rain…
Punta Banda Baja C. Mexico
San Quintin
Limits all around
WFO yellows at the 240!!
Old Mill closed for winter.
OLD MIll????
Captain Kelly checks in
Yellowtail on the 7Xs at the 240 !!!
Bay of Los Angeles
Rocked the first day and rockin' the second…
Bola 11/15-19
Cedros Island
Mossbacks rule!
Isla de Cedros Nov13-17
Baja Sur
Bahia Asuncion
Color Baja West Coast 'yellow' from Ensenada to Abreojos.
OLDMAN&GANG KILLEM
Cedros and Bahia Asuncion comparison.
Cedros or Asuncion?
I also received the following comment from a local:
Now that more anglers are bringing their own boats here to fish...they really need to respect the fishing co-ops' work and wait until they clear the boat launch area before launching and retrieving their own boats. There is some tension with the co-ops as some people have gotten indignant and downright rude and argued with the co-op fishermen at the ramp when asked to wait. The main launch ramp at the co-op belongs to the co-op...they pay for the concession rights and that needs to be respected.
La Bocana
Captain Juan finds a Baja rarity…rain and expected good fishing.
¨ROSARITO JIMMY¨ IN LA BOCANA.
Magdalena Bay
Wind finally backed off and Pacific flattened out. On the outside the marlin are still around, along with some yellowfin tuna with porpoise schools . Closer to shore on the pinnacles are some larger grouper. Up in the Esteros there has been good action for snook, pargo, grouper and cabrilla. Captain Jesse Henry on the 'Dog House' experienced a spectacular bite, releasing 87 striped marlin in 3-days of fishing. Best day was 33 striped marlin and one (1) Sailfish…
Bob Hoyt Mag Bay Outfitters
La Paz Los Arenas
We got rain and strong winds early in the week that actually caused minor flooding in town but once things settled down and for anyone still willing to get out in the breeze, dorado are still out there. Coral Ogden hangs onto a good bull dorado she caught north of La Paz near the island on a strip of bonito.
http://fishreport.jonathanroldan.com/
East Cape
Dorado are kid stuff.
BETTER LATE THAN NEVER
San Jose del Cabo
Cows grazing…
Super Cow at gordo banks
Another one.
Pino's Pangas lands Cows and Supercows !!!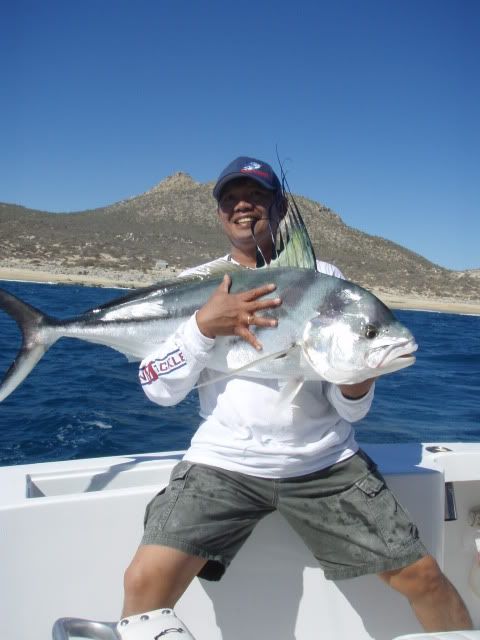 November delivers a solid fiver. Count'em: roosterfish, wahoo, tuna, dorado and sailfish to fill out the count.
Amazing Cabo! 12-14 Nov
Wahoo decide to go on-the-chew.
http://us2.campaign-archive1.com/?u=...7&e=55e0083b00
Los Cabos
More billfish arriving on the Pacific side.
http://captgeo.wordpress.com/
WON Tuna Tournament video.
Cabo Tuna Jackpot
Mexico Mainland
San Carlos
Sierra on-the-chew.
http://scaamexico.wordpress.com/2011...20th-report-2/
Mazatlan
Mazatlan had a great mixed-bag catches, both inshore and offshore. The offshore fleet reported in for 33 days fished that reflected six blue marlin, (all smaller fish under 300 pounds with one released) one striped marlin, twelve sailfish, (two released) twenty seven yellowfin tuna, (20 to 50 pounds) two mako sharks and fifty three dorado, (to 42 pounds). The inshore super pangas reported in for 11 days fished, one sailfish, fourteen black snook, (average about 12 to 15 pounds) nine yellowfin tuna, eight dorado, six corvina, eight red snapper, nine pompano and two seabass for their efforts. This is the time of year that good snook fishing opportunities can be found.
Puerto Vallarta
Ana Maria Sportfishing Wins 1st Place Marlin in 56th Annual Tournament in PV.
Ana Maria Sportfishing Win 1st Place Marlin in 56th Annual Tournament in PV
Excellent grade of everything for Long Rangers!
http://www.bdoutdoors.com/forums/mai...nov-5-7-a.html
Cows in the pasture.
400lbs of tuna on the dharma
Zihuatanejo
The area beginning at about 6 miles from the entrance to Zihuatanejo Bay along the color line is producing good catches of sailfish, dorado and marlin. Lots of bait under the logs.
The inshore fishing is now producing an excellent bite on bigger jacks, lots of bonito and sierra are biting and the fly fishermen are having a field day. The inshore water is still brackish green along the coast and the roosterfish were not cooperating at all this past week.
Beyond
Guatemala
Early Season 2011/2012 Guatemala Fishing Report:
http://greatsailfishing.com/Guatemal...ing_Report.php
More stripes appearing.
http://www.bdoutdoors.com/forums/cos...13-2011-a.html
Costa Rica
http://www.bdoutdoors.com/forums/cos...osta-rica.html
Panama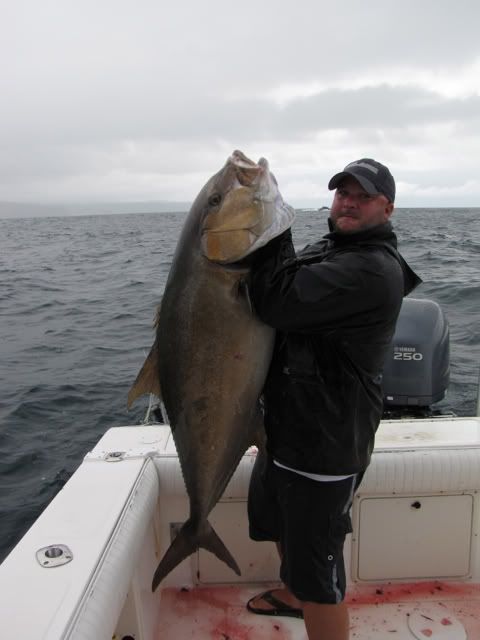 Meet amberjack named Mr. Piggy.
http://www.bdoutdoors.com/forums/cos...eat-start.html
Final Thoughts
You can tell Turkey Day is close when you see people camping on the sidewalks in front of stores in search of outrageous bargains that are offered on Black Friday. Honestly, I can't imagine being caught up in that game. However, I suppose they might think the same of me if they spotted me on a Baja beach in the dark waiting for enough light to cast on a huge roosterfish slashing through a bait school.
To each their own.
I am thankful for all of emails and the encouragement many of you have offered. I hope all of you have as happy a Thanksgiving Day as my family is planning.